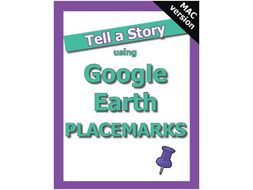 Story Telling with Google Earth Placemarks (MAC)
Create fun storyboards that students then place on to geographic locations on Google Earth. The storyboards can be used to walk through a story showing each step of the plot on Google Earth - using images and descriptions - but they can also be used to create a tour of anything that you can think of.

This pack shows students how to create their own simple Tour on Google Earth, by creating a storyboard(Word template included), setting up Placemarks, inserting images and description as well some activities at each location, then recording the tour for others to view.

Very motivating.

Also includes an assessment Rubric, answer key, 12 worksheets, and a Word document Storyboard template.

Note that there are some very minor steps included that apply to Mac users only.
Read more