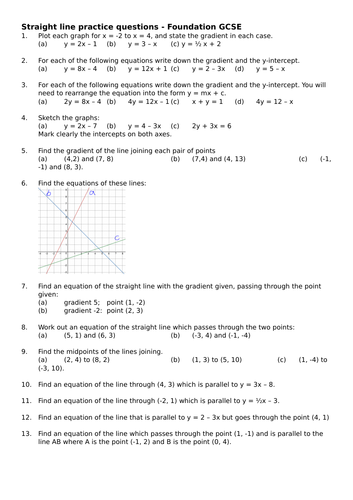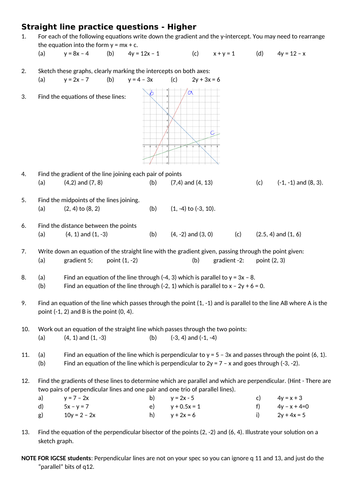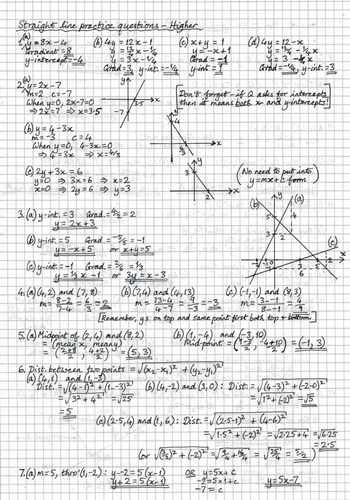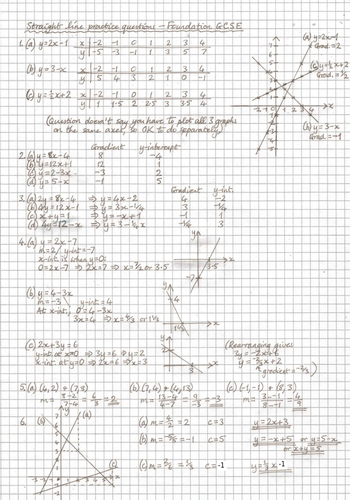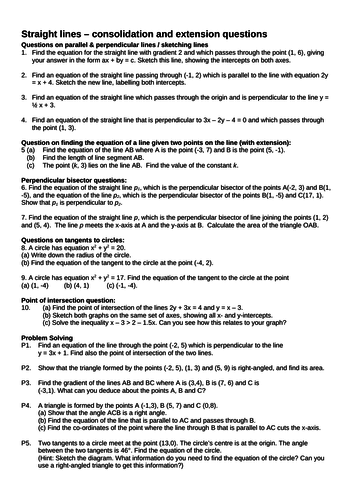 Latest version (19/10/18) covers both Foundation and Higher Tiers. For each tier there's a PowerPoint, a set of practice questions and a PDF of model answers to these. In this latest version I've tweaked the Higher worksheet so the question order is a better match to the PowerPoint, and have also added a sheet of consolidation and extension questions for the stronger students (answers included on sheet).
Both PowerPoints include a recap of y = mx + c and introduce ax + by = c; plotting a graph; sketching a graph; formula for gradient; finding the equation of a line from its graph; mid-point of a line segment; and parallel lines. The Foundation one takes things a little slower, while the Higher one also includes distance between two points; use of y - y1 = m(x - x1) for the equation of a line given gradient & 1 point / given 2 points; perpendicular lines; perpendicular bisector; intersection of two lines (with a brief mention of inequalities); and tangent to a circle.
A convenient set of key points that can be drip-fed to students as you progress through the topic, and printed (8 or 9 pages to a sheet works well) as a reference handout at end of topic.
Creative Commons "Sharealike"
Something went wrong, please try again later.
Great practice for my children, thank you!
Thank you thank you! :)<br />
Thank you! Just what I was looking for my Year 11 top set. Answers as well!! :D
Thank you, this is a really useful summary for both foundation and higher
Report this resourceto let us know if it violates our terms and conditions.
Our customer service team will review your report and will be in touch.