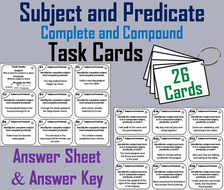 Subject and Predicate Task Cards (Complete and Compound)
Subject and Predicate: These task cards are a great way for students to have fun while they practice identifying subjects and verbs within sentences.

This activity has students reading various sentences to each other, 26 in total, and then asked to identify either the complete subject or predicate or the subject and verbs to identify the sentence as a compound subject or predicate. A recording sheet and an answer key are included.
Read more