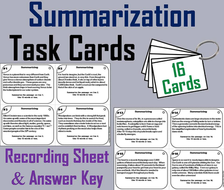 Summarizing Task Cards
These task cards are a great way for students to have fun while practicing their summarization skills.

This activity has students reading 16 informational text passages to each other and then asked to summarize the passage in 13 words or less. Students may record their summaries on the provided answer sheet. An answer key with suggested example answers is also included.
Read more