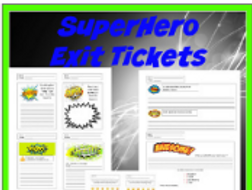 SuperHero Exit Tickets
These fun and creative Exit tickets are superhero themed. There are 8 different styles of exit tickets. The last two pages include emoji exit tickets and numerical ratings exit tickets.

**Customize each for entrance or exit tickets
**Differentiate your lessons
**Use for formative Assessments
About this resource
Info
Created: Nov 29, 2016
Updated: Feb 22, 2018
By adding a School licence it allows you to share this resource with colleagues at your school. Without it, this resource is licensed for use only by you. Read licence details
Other resources by this author
Awesome Battle Simulation that students love. They take the role of either the British or American leadership and make decisions on either side of ...
coachgorman1
This unit comes with everything you need for your CSI on the Boston Massacre. Included are all primary sources and the student investigation journa...
coachgorman1
This Scavenger Hunt Worksheet covers these standards: I understand the limitations of The Articles of Confederation and the need for a better syste...
coachgorman1
Popular paid resources
Easter : Easter Bundle Included in this pack is a selection of our Easter activities, timers and lessons. We hope that you enjoy this resource! If ...
TeachElite
Easter : Reward Jars-Behaviour Monitoring This PowerPoint Contains five Easter reward jars to use with your pupils to positively reinforce good beh...
TeachElite
Due to the success of our A3 DIRT Worksheet, which has had hundreds of downloads and received 100% 5* reviews: we've released a special Christmas e...
godwin86
New resources
Christmas - Icicles Timers New purchasers get 90% off this resource. Enter code: 90November @ checkout! This is a really fun Christmas Icicle timer...
TeachElite
This unit in the form of pdf file is prepared on 'LIGHT'. My units have been made to be both informative and visually stimulating for all students....
ilaxippatel
This presentation has several ways for developing literacy across subjects and is suitable for all ages although tailored to suit secondary and six...
NaomiSterling-Smith
Updated resources
6 different job descriptions to make sure that all people are involved and actively working within a group. Suitable for all ages and group work ta...
Marcushall6
Simple Excel sheet that works out percentages of scores. Easily customisable.
Marcushall6
This product relates to activities based on colour recognition and grouping colours that are the same. Aimed at: EYFS/Reception/Year 1/SEN groups. ...
Ro_Milli0110