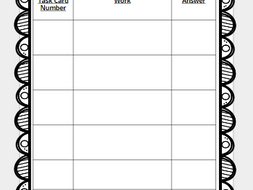 Task Card Record Sheet- Free
This task card record sheet can be used this with any set of task cards as a means of tracking students answers and work. For math, I especially love the answer column, because it requires my students to go back to the problem and answer the question that is asked. This is where my students apply labels and/or complete sentences.

Use it with my task cards or any others that you find useful.
Read more