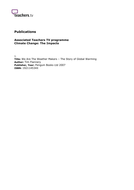 Teachers TV: Climate Change - The Impacts
This programme is aimed at pupils at the higher end of KS3, and provides an introduction to the topic of climate change at KS4. The effect of drought conditions in various parts of Africa is analysed, with reference to the adaptive capacity of Less Economically Developed Countries. We go to Bangladesh, where the potentially complex interaction between climate change and the country's topography and geography is examined. The impact of climate change on Arctic environments is illustrated by examining likely stresses on polar bear populations. Finally, the impact of warmer oceans on coral reef ecosystems is explained. The programme makes the point that few, if any, of these changes are inevitable, and invites pupils to think about what should be done. The contributors are Dr David Viner of the Climatic Research Unit, University of East Anglia, and Saffron O'Neill of the Tyndall Centre for Climate Change Research.
Read more
Report a problem
Creative Commons "NoDerivatives"