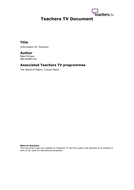 Teachers TV: Functional Maths video: Cricket Match
Ten maths sequences filmed during a cricket match. To encourage pupils to think mathematically. Cricket is a game based on numbers and maths, offering questions about how fast a ball travels, how high, what the score is, and why cricket pitches are often oval. These ten short sequences, shot during a Saturday cricket match, each display a different aspect of mathematics for pupils to explore, investigate and discuss. Each sequence poses a question intended to stimulate mathematical discussion rather than to elicit a correct answer to a computation.
Read more
Report a problem
Creative Commons "NoDerivatives"