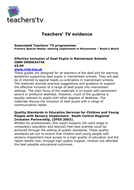 Teachers TV:Hearing Impairment in Mainstream-Rosie
This programme focuses on the needs of deaf children in the classroom and explores the many ways in which mainstream schools can achieve full inclusion for the hearing impaired. Rosie attends Willingdon Primary in Eastbourne, a school with a Hearing Support Facility and uses various communication methods in order to include Rosie, and other deaf children, in every aspect of school life. Rosie's class teacher is an NQT who has recently completed a deaf awareness course. He works together with Mary, one of the three signing TAs who support hearing impaired children in the school.
Read more
Report a problem
Creative Commons "NoDerivatives"