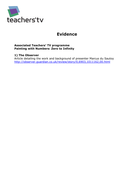 Teachers TV: History of Number: Zero to Infinity
Suitable for KS3/4 Marcus du Sautoy explores the diverse world of numbers. In this programme, mathematician Marcus du Sautoy explains how humans have developed numbers for their mathematical needs. We learn that humans first began counting with whole numbers only, but then needed to invent others as their mathematical skills increased. Marcus meets with Dr Eleanor Robson who reveals that zero, as we know it, was invented by Indian mathematicians and that it has revolutionised the way maths is done.
Read more
Report a problem
Creative Commons "NoDerivatives"