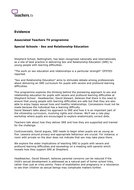 Teachers TV: Special Schools - SRE
Shepherd School, Nottingham, has been recognised as a site of best practice in delivering Sex and Relationship Education (SRE) to young people with learning difficulties. "The work on sex education and relationships is a particular strength", Ofsted reported. This programme explores the thinking behind the pioneering approach to sex and relationship education, and aims to stimulate debate among professionals about delivering an SRE curriculum for pupils with severe and profound learning difficulties. Headteacher David Stewart believes that there is a need to ensure that young people with learning difficulties are safe but that they are also able to enjoy happy sexual lives and healthy relationships. Concessions must not be made because the individual has a learning difficulty. It is an important part of the citizenship curriculum at Shepherd School, involving rights and choices. Controversially, David argues, SRE needs to begin when pupils are as young as five.
Read more
Report a problem
Creative Commons "NoDerivatives"