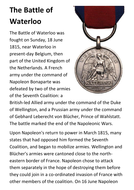 The Battle of Waterloo Handout
The Battle of Waterloo Handout - 34 pages
Read more
Other resources by this author
The Legend of King Arthur Source Analysis Activity - 4 sources for students to analyze plus a KWL sheet.
sfy773
We're All Wonders Word Search - 6 pages
sfy773
The Battle of Naseby Handout - 20 pages
sfy773
Popular paid resources
This is a complete lesson exploring the Slave Trade triangle. It includes a map task, have and need task, card sort on the reasons slavery was just...
leighbee23
Goes from the dinosaurs through key periods of history to the present day. Use MS Word to adapt it. I have added the Stone, Bronze, Iron and Middle...
MrCMaths
This lesson as a dragons den style group task, pupils worked in groups of 5 and each analysed one of the five inventions during the Industrial revo...
leighbee23
Updated resources
American Independence Day Fourth of July QUIZ Over 10 rounds and 60+ Questions. This resource contains 1xPowerPoint 1x Student Answer Sheet double ...
thecre8tiveresources
My students love this project! In this 14 page pack you will find background information on the Industrial Revolution as well as information cards ...
danguiney
First lesson of the foreign policy topic. Lesson begins by recapping on the last topic and making links between the crises in Manchuria/Abyssinia a...
Bigfoz