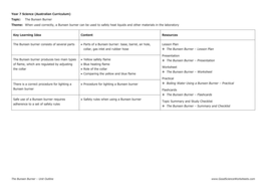 The Bunsen Burner [Unit Outline]
Unit outline for the topic "The Bunsen Burner" (Junior Chemistry)

Designed for the Australian National Curriculum: Year 7 Science
Read more
About this resource
Info
Created: Jan 23, 2017
Updated: Feb 22, 2018
Other resources by this author
Activity for for intermediate high school chemistry. Ion shapes designed for cutting out and laminating. Shapes include name and symbol of each ion...
GoodScienceWorksheets
8-page worksheet for intermediate high school chemistry. Comprehensive worksheet containing a variety of questions, including extension and further...
GoodScienceWorksheets
This worksheet covers all aspects of transcription and translation. Questions on transcribing and translating DNA sequences, theory and mechanisms ...
GoodScienceWorksheets
Popular paid resources
**This resource has been recommended by the TES Resource Team** *UPDATED AUGUST 2017* Added a crossword puzzle with answers. This resource pack wil...
sciencecorner
This resource is a set of 26 bespoke 6 mark questions to test students understanding of most of the required practicals in the 2015 AQA Science spe...
chalky1234567
*NEW ROUNDS ADDED FOR 2017* Christmas Quiz for use within Science lessons towards the end of term. There are 19 Quiz rounds to choose from (I usual...
fosterpaul
Updated resources
Suitable for KS3 in maths or science when covering averages and rage. Students engage well with this and shows their understanding for the differen...
mba10rd
We are surrounded by images. Scientific imaging helps prepare the way for discoveries and breakthroughs in medicine, biology, chemistry and astrono...
Pat_Edema
Powerpoint to show what the students should be able to talk about for each required practical. Designed as a display but can be used as a lesson po...
eileenpadfield