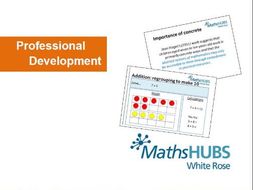 The importance of working together - PD resources
Select 'View more' for an accompanying video.

Increased independence, heightened self-confidence and higher level reasoning skills are just a few benefits of working together in maths.

Continuing the story of the importance of CPA, this CPD package offers a variety of materials which aim to inspire, guide and support your staff in making the most of collaborative learning in maths.
The package comprises:

· a video, in which Mr White makes his debut, has a humorous perspective on the benefits of working together in maths

· a PowerPoint presentation which forms the basis for 1 hour CPD session for your staff team

· a set of presenter's notes which offer prompts and suggestions for the session.

Together, these materials aim to demonstrate how working together can support children in maths. As well as the positives, effective ways to overcome barriers of working together in maths are discussed.

These CPD materials are available completely free of charge and, as always, we welcome all feedback on our work at The White Rose Maths Hub and the materials we produce.


Read more