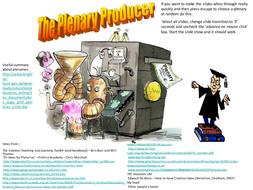 TES PICKS
The Plenary producer
Title speaks for itself, can be used with a whole range of groups and subjects
About this resource
Info
Created: Feb 23, 2012
Updated: May 18, 2016
Other resources by this author
I tried to select a nice topic and theme to teach and revise various skills and grammatical aspects . It links to Expo3 ( la Normandie ) rouge with...
skiermeetsboarder
I have designed this to support my year 7 in developing reading/ writing / translating skills. I started with the text ( pair work competition : ea...
skiermeetsboarder
Title speaks for itself, can be used with a whole range of groups and subjects
skiermeetsboarder
Popular paid resources
Use this chatty mat to encourage your pupils to speak more French! Print off and laminate the mat, hand out to pupils or one to a table, and reward...
emmy91
KS3 French Studio 2 Vert Module 1 T'es branché Unit 5 Quand il fait beau , on va au parc. Titre: Quand il fait beau , on va au parc. L'objectif : T...
MagBB
KS2 - KS3 French lesson Classroom commands to use the target language in class.
MagBB
Updated resources
Les Nombres / Les Numeros / French Numbers to 100 vocabulary worksheets with differentiation (10 pages with additional full answer keys): 3 double-...
FullShelf
This is a powerpoint introducing pets in French. Once the vocabulary has been introduced play the happy families card game which is included. Simpl...
CrookedSteeple
Learn as you teach KS2 Level 1 Primary French series empowering primary teachers and TAs teaching the 7-11 age range to both learn and teach alongs...
scwebster