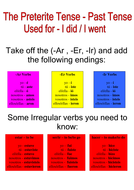 The Preterite Tense - Spanish
<p>Preterite Tense poster including some important irregular verbs</p>
Read more
About this resource
Info
Created: Apr 14, 2008
Updated: Aug 19, 2015
This resource is designed for US teachers. View UK version .
Other resources by this author
9 cards for both Foundation and Higher to practice the photo card element of the oral exam.
Joshuafinneran
A revision sheet which can be used prior to the module 4 exam with a variety of key phrases and vocabulary activities.
Joshuafinneran
An extensive booklet containing 80 pages for the new GCSE covering all the topics from the Edexcel specification but can be transferred across all ...
Joshuafinneran
Popular paid resources
¡Hola! Here is a booklet suitable for KS KS3 and KS4 Spanish to cover the World Cup! It covers all four skills (reading, listening, writing and spe...
SonrieinSpanish
Everybody likes a good board game and our A-Level students love this one, as it gives them the chance to** revise** the difference between direct a...
SonrieinSpanish
This 2-page file includes Spanish language biography is on the life of Mario Vargas Llosa winner of the 2010 Nobel Prize for literature. This biogr...
ninatutor
Updated resources
This 2-page file includes: ~A humorous reading about some competitive brothers and cousins who are always comparing themselves to each other! It fe...
ninatutor
This is a webquest activity based on the World Cup - designed specifically for Spanish KS4 (also suitable for year 9) Answers are included. Access ...
MFLSpanish
A collection of the 12 modules required to compete the ASDAN CoPE Award. The following resource is intended to be used alongside the official ASDAN...
hayleytandrews
12 Resources

20% off

$26.68

$

21.34