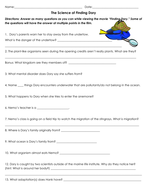 The Science of Finding Dory~Movie Worksheet
Twenty-five questions for students to answer while viewing Finding Dory. Questions cover a range of science topics that are addressed during the video. It's finally the sequel to my popular Finding Nemo worksheet!

Great for a wide range of ages, as questions can be answered in a variety of depths.
Read more