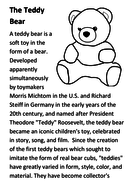 The Teddy Bear Handout
The Teddy Bear Handout - 22 pages
Read more
Other resources by this author
Rumpelstiltskin Handout - 18 pages
sfy773
Help the Queen find Rumpelstiltskin maze puzzle
sfy773
Rumpelstiltskin Activity Pack Rumpelstiltskin Handout Rumpelstiltskin Word Search Rumpelstiltskin Picture Pack PP Rumpelstiltskin Maze Puzzle
sfy773
Popular paid resources
10 fully resourced lessons to prepare students for the AQA English Language Paper 2, Section A exam: 'Writer's Viewpoints and Perspectives'. This r...
RojoResources
These 'Library Challenge' cards were made for my class library, but they could be used in a school library as well. The idea was just to get the ch...
sh2810
Children loved making pizzas at our Italian pizza class. Resources have been exported from an Activ-primary flip-chart. (Which also includes Italia...
jreadshaw
Updated resources
Looking for Bible activities that will excite and engage your students? Have fun teaching them more about the Bible with our FREE Noah's Ark activi...
pip29
This Activity Book is a wonderful way to help students learn about Noah's Ark. Includes 89 pages of lesson plans and activities. Plus an Answer Key...
pip29
This is for KS4 (but it could be used to stretch a very able KS3 class). The ppt contains: a HW task a starter (group task) 2 x models of successfu...
chirpyandcheerful