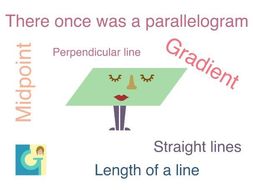 There once was a parallelogram...
Straight line and equations. A write on worksheet for students. Best used by revealing one page at a time. Skills tested: checking a certain point lies on a line, finding where a line crosses the axes, finding the equation of a line given a point and a gradient or two points, calculating the length of a line segment, using perpendicular gradients and finding the midpoint of a line segment. Worked solutions provided.
Read more
Report a problem
Creative Commons "Sharealike"