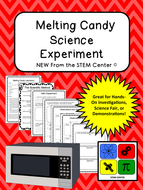 Thermodynamics: Melting Candy
Thermodynamics

The "Melting Candy" Laboratory provides a written laboratory detailing the question, materials list, and procedure for a student to investigate whether or not different colored m&m's melt at different rates. In addition to the written lab, you are provided the step by step guide to the scientific method, a fill in the blank lab report (question, research, hypothesis, planning or procedure, record sheet, and conclusion), fact sheet, data sheet, and reflection sheet.

All science teachers are looking for resources for hands on, demonstrations, or possible science fair investigations. This STEM Center series solves that problem! Print and enjoy!
Read more
About this resource
Info
Created: Jun 16, 2016
Updated: Feb 22, 2018
Get this resource as part of a bundle and save up to 50%