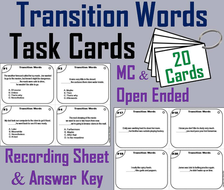 Transition Words Task Cards
Transition Words: These task cards are a great way for students to improve their vocabulary as well as their skills with using transition words.

This activity has students reading various sentences to each other, 20 in total, and then asked to choose the correct transition word to use. A recording sheet and an answer key are included.
Read more