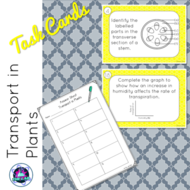 Transport in Plants Task Cards
Great for Revision!

Set of 24 Task Cards on Plant Transport.
Includes questions on:
* Xylem & Phloem
* Plant structure
* Transpiration
* Translocation
* Plant Adaptations

Student Answer Sheet & Answer Key included.

This product forms part of my Biology Task Cards Growing Bundle.
Read more