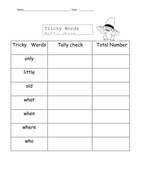 tricky words tally sheet
A fun way to do Tricky words or high frequency words . Cut the boxes of each word and stick it around the corridors. Let children read the word and mark a tally for it , At the end , count the number of each word the child read.
It is a good way of practicing tricky words and assessing the children with it .
Read more