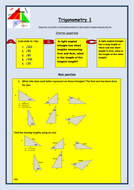 Trig- finding lengths (sin and cos)
A handout for finding lengths in right angled triangles using sine and cosine. Starter has some rounding and 2 pythagoras questions.
This resource is designed for US teachers. View UK version .
Categories & Grades
Other resources by this author
A collection of multiple choice quizzes. Cover most KS3 and KS4 topics. Good for revision or to be chopped up and used as starters or plenaries in ...
bcooper87
A PowerPoint Activity on sharing in ratios, in particular finding an unknown amount, e.g how much water do you need if water and squash are mixed i...
bcooper87
A scheme of work i made based on OCRs specification, designed for our students who won't be entered for GCSE maths. The course is designed to be co...
bcooper87
Popular paid resources
A self-contained game to be played in pairs. Use to revise reading coordinates on a grid. Best played once coordinates have already been introduced...
Miss-Becky
Differentiated worksheets for children to complete. Each worksheet contains photographs of shapes that the children must construct then answer ques...
juliannebritton
There are about 17 (practical and fun) lesson activities, tasks or worksheets to cover the following 2014 objectives: Recognise angles as a propert...
jreadshaw
Updated resources
This is a fun matching hands-on activity working with 2D shapes. Aimed at: Early Years/Year 1, SEN and children learning English. <strong>Con...
Ro_Milli0110
Differentiated worksheets for White Rose Maths Planning, Year 1, Summer 1, Block 3 (Position and Direction) - Describing Position. Two different w...
missmartin92
15 Mental Arithmetic PowerPoint Speed Tests, originally designed for Upper KS2 - Y5 and Y6 (P6 and P7 and other equivalents) but might also suit so...
FullShelf