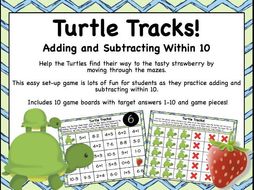 Turtle Tracks Maze Game Adding and Subtracting within 10
Help the Turtles find their way to the tasty strawberry by
moving through the mazes.

This easy set-up game is lots of fun for students as they practice adding and subtracting within 10.

Includes 10 game boards with target answers 1-10 and game pieces!
Read more