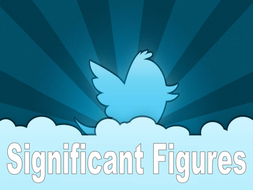 Twitter Significant Figures
Short PowerPoint that explains significant figures regarding larger numbers (not any that start with 0) in the context of followers of celebrities on Twitter. One of the slides gives you a suggestion for how they could lay out the work in their books, this may or may not be useful. I will add a second PowerPoint at a later date regarding small numbers (anything starting with 0) when I can think of a context to put it in. Any ideas or suggestions would be most welcome!
Read more
Report a problem
Creative Commons "Sharealike"