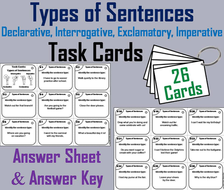 Types of Sentences Task Cards
Types of Sentences: These task cards are a great way for students to have fun while practicing their skills with the different types of sentences: Declarative, Imperative, Exclamatory, and Interrogative sentences.

This activity has students reading various sentences to each other, 26 in total, and then asked to identify the type of sentence. A recording sheet and an answer key are included.
Read more