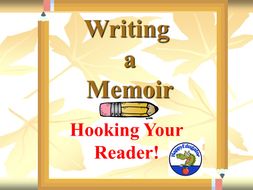 Writing Memoir Leads PowerPoint
Writing hooks that engage the reader is a great writing skill.This PowerPoint lesson focuses on writing strategies to hook the reader when writing a personal memoir. Provides students with a variety of leads and professional examples. Eight different writing strategies to engage the reader and create great beginnings for a memoir which will help students get started writing. Helpful in preparing for state writing tests. Includes a writing practice assignment to put the strategies learned to good use. For use in a standards-based writing program which supports common core.
©2017 HappyEdugator.
Read more