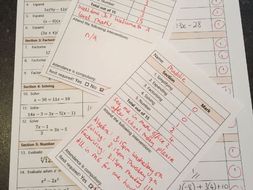 TES PICKS
Year 12 Maths Entry Assessment
This assessment tests basic pre-requisite maths skills on entry to A level. It's editable so if you like the format but don't like the questions, feel free to change them!

The idea is to give this 15 minute test in the first maths lesson of Year 12 in order to identify any students who need immediate intervention. The intervention sessions can then be tailored to specific skills eg a session on expanding brackets, and a separate session on solving equations.

This assessment is print-friendly (one side of A4) and quick to mark. Teachers can complete the mini-feedback sheet for each student and staple it to their assessment, with details of upcoming intervention sessions.
Read more