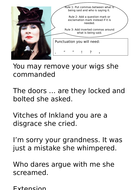 Year 5 - The Witches, adding punctuation to speech sentences
A three way differentiated resource which uses the speech of The Grand High Witch. The children have to add in the correct punctuation to the speech sentences with each sheet having an extension. The HA task includes the task of writing split speech with an adverbial phrase at the end.
e.g
"How dare you!" she cried with her hands on her hips, " I will get you for this."
Read more