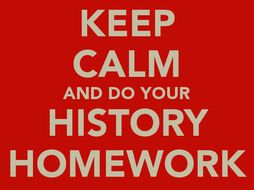 Year 7 History Homework Booklets
Attached in this document is a series of homework booklets that cover the following topics;
1. The Islamic Empire
2. The Middle Ages
3. 1066
4. Historical Skills
5. Tudors
6. Stuarts
7. Industrial Revolution
8. SEND homework booklets

These homework booklets will cover you for the whole year and can be reused and adapted accordingly. I hope they make your life a lot easier and help you to enjoy teaching rather than planning. I also have homework booklets for year 8 & 9 which have been uploaded.
About this resource
Info
Created: Mar 19, 2017
Updated: Feb 22, 2018
Other resources by this author
This is Part 1 of Health & The People, it consists of 12 lessons with worksheets that cover Ancient Greece, Rome & Medieval Britain. There ...
JamesLeopoldStuart
This is Part 3 of Health & The People, it consists of 18 lessons with worksheets that cover The Industrial Revolution to Public Health after 19...
JamesLeopoldStuart
This is a series of 10 lessons that have worksheets to support. It focuses on the causes of The English Civil War - Was Cromwell a hero or a villai...
JamesLeopoldStuart
Popular paid resources
Roman villa lessons lesson one-Introduction to Roman Villa and key features Then a long term task pupils design a Roman estate agent booklet by bei...
leighbee23
Goes from the dinosaurs through key periods of history to the present day. Use MS Word to adapt it. I have added the Stone, Bronze, Iron and Middle...
MrCMaths
An introduction to the ancient olympics and modern olympics, this lesson covers the history of the olympic games It also has a countries research t...
leighbee23
Updated resources
Featuring a Roman Numeral version of my best-in-class Millionaire Quiz, these assessment tools are perfect to engage children with the concept of R...
GalvaniseEDU
Year 5 task based menu homework sheet: Ancient Greec.​
smelly_78
Worksheet to accompany the PBS video, Rome in the First Century. Episode 2: Years of Trial. The video covers the state of the empire at the time of...
WayneWoods