GCSE MFL revision resources
Help GCSE students tackle their French, Spanish and German exams with ease using these top revision resources
It's that time of year when the focus shifts from teaching new content to making sure that all learners feel poised to tackle their GCSEs. Ensure your students are ready to say bonjour, hola and guten tag to their summer exams with this selection of lessons, activities and practice papers, all selected from our quality assured GCSE revision hub. Surely there's no better way to kick-start pupils' revision?
This is a complete Speaking Pack for GCSE French. The main presentation included in the pack has hyperlinks to allow you to easily navigate the menus and switch between candidate, teacher and example cards.
It will guide both teachers and students through all parts of the new speaking exam.
Easy to follow marking grids for all aspects of the speaking exam for both foundation and higher tiers
Top tips for Role-Plays, Photo Cards and General Conversations
Example Student cards
Example Teacher cards
Example scripts for Role-Plays
Printable Student and Teacher Cards
Printable marking grids for student feedback
Printable worksheet for Top Tips
This is the one-stop resource for seeing your students through this vital element of their French GCSE. I am really proud of this resource and hope you will find it as useful as I have!
(DESIGNED FOR AQA. Could also be used for EdExcel GCSE French, but will need some adapting for the marking sheets)
By
Caroline Thomas
Colour-coded board game for GCSE Speaking revision. Topics covered: Moi et ma famille, Ma ville, Mes loisirs, Mon collège. Questions can be edited. First student to reach the end wins the game.
By
ofi1983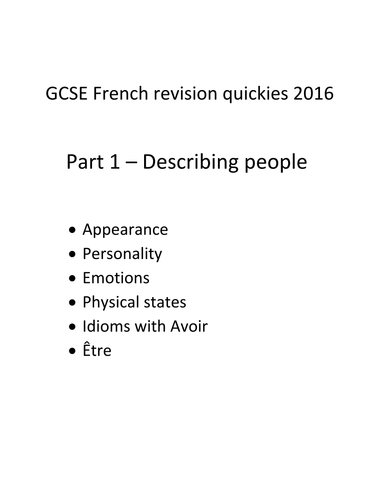 12 pages of wordbuilders focusing on the description of physical appearance, personality, irregular adjectives, emotional and physical states, the present of ETRE and AVOIR as well as idioms with AVOIR.


By
Gianfranco Conti