Tes Maths: End-of-term activities
Embrace the carefree nature in the last few weeks of term with these hand-picked activities, puzzles and quizzes
This collection is designed to help you in those final weeks of term when students are out of lessons for various rehearsals and trips, so you rarely have a full class. You want something that is fun, but has more pedagogical value than showing a DVD. Fear not! These activities, puzzles and quizzes will do the trick.
Have a happy, safe and well-deserved break.
Craig Barton, Tes Maths adviser
Creative activities
I am always blown away by students' efforts on these sorts of task. And at the end of it, you might even have something you can put on display at an open evening.
Puzzles and mysteries
Maths lends itself so well to puzzles and although many students would be reluctant to admit it, most of them enjoy working on a well-designed puzzle and feeling the satisfaction of finally cracking it. 
Quizzes
An end-of-term staple, the beauty of a quiz is that amidst the general knowledge rounds, you can throw in one or two maths rounds and the students rarely complain.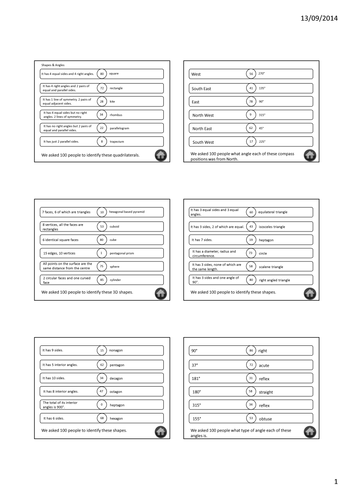 A PowerPoint based on the BBC Pointless game. Topics covered include: angles, 2D shapes, 3D shapes, fractions, decimals, percentages, time, ratio & proportion, Roman numerals, factors, number sequences, algebra, rounding, data handling, area, perimeter, volume, symmetry, nets for 3D shapes, place value, co-ordinates, negative numbers, compass points and puzzles. It is very important and the notes for teachers are read as it tells you where to click when using this PowerPoint.
By
sessa1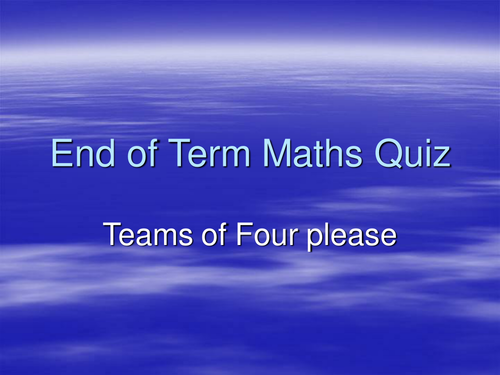 This is a great activity for revision of the terms' syllabus. This PowerPoint is suitable for teams of 4. There are five rounds of maths at KS3 level with answers at end of each round. Questions can be adapted.
By
amathsteacher