Tes Maths: Top investigation ideas
Engaging investigation ideas to inspire creative thinking in your classroom
Since the abolition of maths coursework, there is no formal requirement to carry out investigations with your students. However, it is only through investigative work that students of all ages and abilities can start to appreciate the true beauty of the subject. They can hypothesise, be creative, challenge themselves, work with other students and potentially discover things that have never been discovered before.
At our school, we do an investigation with each year group every half term. They may last 20 minutes or five lessons. Here is a selection of the best investigations that the Tes Maths community has to offer.
I really hope you and your students find them useful, enjoyable and stimulating.
Craig Barton, Tes Maths adviser
Pentominoes
Pentominoes are a superb, versatile teaching resource that can be used for investigating many aspects of shape. This resource takes you through lots of ideas for making the most of them.
Mathemagic
These maths magic tricks are engaging way of presenting a problem to your KS3 pupils, before challenging them to investigate how and why they work. Better still, can they go on to design their own?
Noughts and crosses investigation
Who would have thought you could get so much maths goodness from a game of noughts and crosses?  This game will appeal to secondary students of all ages.
This unit is made up of a number of mini activities. After finding the 12 pentominoes pupils use the shapes in the following activities: Find the symmetry and rotational symmetry of the shapes Investigate which pentominoes will tessellate without being rotated, then which will tessellate when rotated Fit the shapes into varying sizes of rectangles The unit contains pentomino shapes to download and print out.
By
Hwb Digital Learning for Wales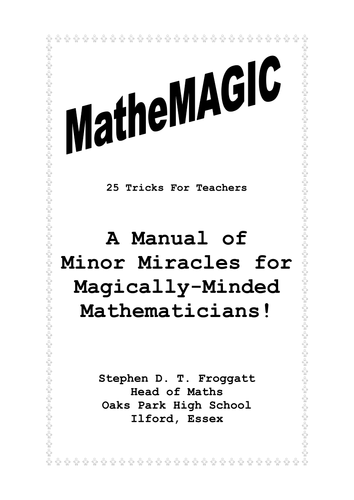 NEW!! Excel Spreadsheets for the effect Total Disbelief.
A collection of mathematical magic tricks for teachers. Particularly suitable for KS3 but also popular with older children. Each trick gives an anecdotal account of the effect being used in the classroom, followed by the explanation and teaching points if used for further work. Appendix includes details of simple sleights such as coin vanishes etc.
By
maths126
As it says on the tin sadly due to size restrictions couldnt post video which go with lesson but youtube links provided.
By
GoldMaths