Cross-curricular sport resources
Excited for some summer sun? Whether you teach in primary or secondary, why not bring summer to school with these fun and engaging cross-curricular sports resources that are sure to get your students energised.
Sports day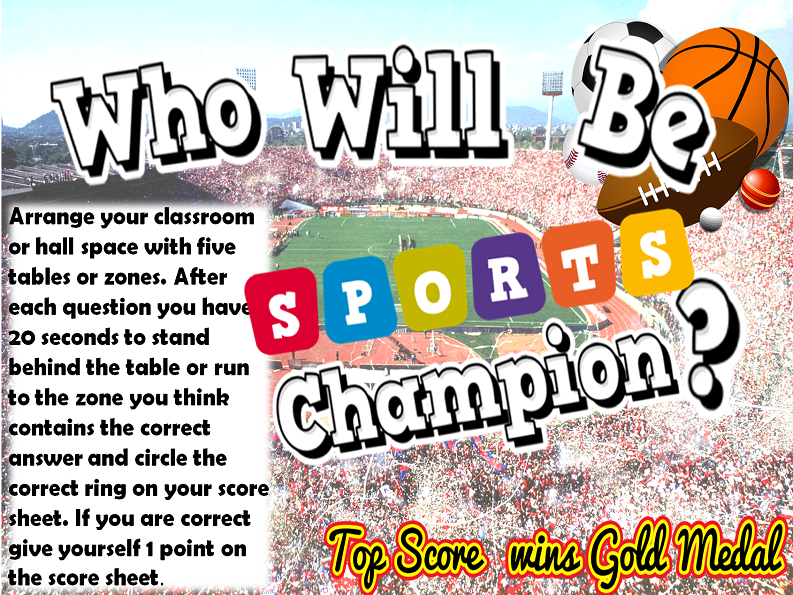 Who will be Champion? is based loosely on Who Wants to be a Millionaire. Instead of 4 options for each question, there are 5 . Pupils must identify the correct answer amongst the 4 incorrect ones. They can vote interactively with their feet if you rearrange your classroom/hall or simply circle their...
Simple Sports Day scoring sheet using excel 2007. Built for 13 form/tutor classes but easily adaptable with a good knowledge of excel - Everything on the sheet is unprotected
School Sports Day Spreadsheet Allows Sign Up, Provides Print Outs, Provides Score Input, Provides Charts There are a number of macros available in the spreadsheet, show tabs, hide tabs, protect cell, auto zoom to fit whatever monitor you have. To use these you will need the Developer Ribbo...
Cricket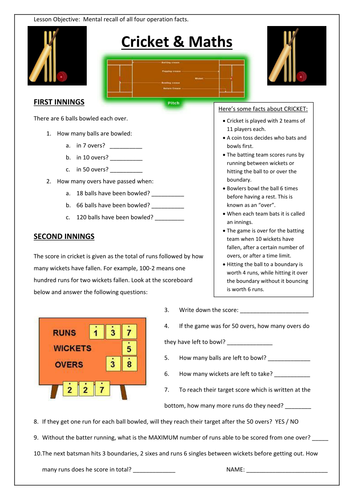 A KS3 worksheet using Cricket as the focus (cross-curricular opportunity). Worksheet has information about the game so no prior knowledge is necessary. When I used this worksheet I began with a starter activity using enough dice for paired challenges. Each student would roll their die at the same...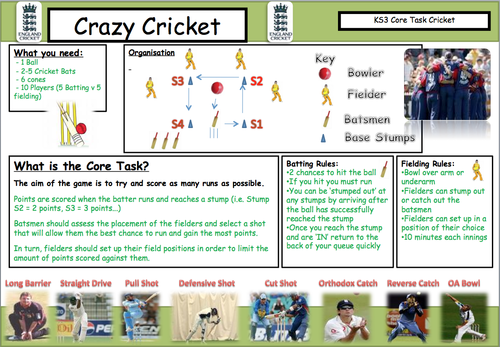 Set of Core Tasks to use as an assessment or T&L tool in practical P.E. [Editable Versions] Hope they provide some inspiration to use, tweak and develop them further. PE4Learning.com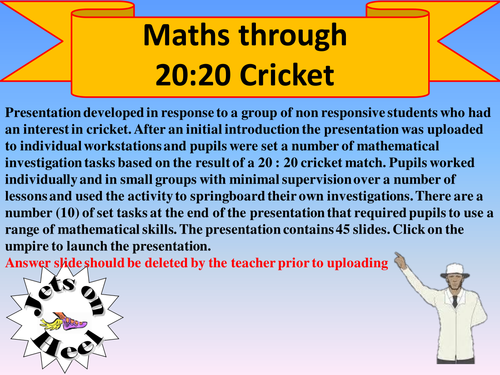 Presentation developed in response to a group of non responsive students who had an interest in cricket. After an initial introduction the presentation was uploaded to individual workstations and pupils were set a number of mathematical investigation tasks based on the result of a 20 : 20 cricket ma...