109Uploads
47k+Views
2k+Downloads
Personal, social and health education

Use these cute question circles to develop reflection and discussion at the end of the day; just print, laminate, and glue on to lolly sticks and you're all set! File contains 24 questions.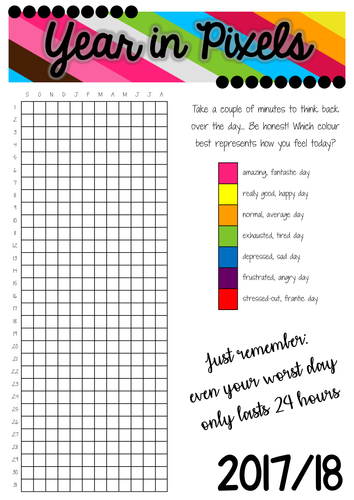 Help yourself (and students too) reflect on your day by implementing this easy to use year-in-pixels tool. At the end of the day, you reflect honestly about how you think the day has gone - weighing up the good and the bad and making an overall judgement on the day. Over time you'll get a picture of how your year is going. Download includes reflection sheets and an optional note sheets in case you need/want to keep a track of at particular triggers. There are three different pixel sheets depending on when your academic year starts/ends. There is one starting in Sept (for UK schools), Aug (for US schools) or Jan (for Aus schools). If your school year is different, I am happy to create a personalised sheet for you. Just let me know.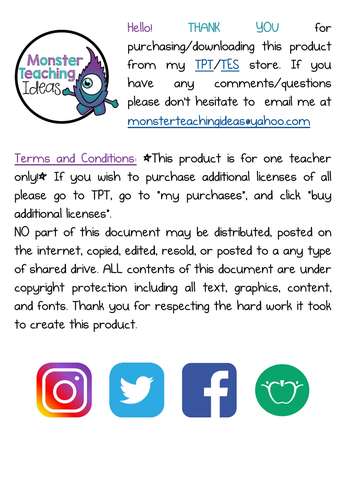 A cool, modern and engaging 'All About Me' activity which is great for transition day or as a back to school activity. With this Instagram style activity, you can learn more about your new students on an imaginative, fun way and the class can learn more about themselves and their peers as well. Students are invited to respond to and illustrate the 9 questions or prompts, with thumbnail doodles or drawings: • Age • My family • Favourite food • Favourite color • Best subject • Favourite animal • Dream destination • I love… • I don't like… They make a great display for the start of the year and are super easy too - the only materials needed are paper, pencils and marker pens PDFs containing both US and UK spelling of favourite and colour are included in this download.

Get your students talking with these colourful, interactive class discussion prompts. Use either full screen in class or interactively through Microsoft PowerPoint/Google Slides/SeeSaw What's included: Over 45 discussion prompts (US & UK Versions) I wish I knew more about… If I had a million dollars. I would… If I had a million pounds, I would… I can show a growth mindset by… I can help save the planet by… A good friend it… My favorite book is… My favourite book is… If I could travel anywhere in the world, I would go to… Kindness means… Courage means… Respect means… Perseverance means… I am thankful for… I am special because If I could go back in time, I would go… If I could meet any famous person, it would be… because… The best job in the world is… One thing I am really good at is… A challenge I am working really hard to overcome is… The emoji that best describes me today is… My perfect day would be… Someone who is an inspiration to me is… because… When I grow up, I want to be… My biggest fear is… My favorite food is… My favourite food is… A goal I have is… A target I have is… In my family, we like to… If I had a superpower, it would be… because… I'm proud of myself because… My favorite dessert is… My favourite dessert is… Something that makes me happy is… If I were the teacher for the day… My favorite song is… My favourite song is… Words are powerful because… If I knew I couldn't fail, I would… My favorite season is… My favourite season is… If I could invent an app, it would… One word to describe me is… My favorite word is… My favourite word is… My favorite memory is… My favourite memory is… Two slides for each starter Full screen slide for display in the classroom Slide with blank space for interactive online discussion/student writing Compatibility: These templates are compatible with Microsoft PowerPoint, Google Slides & Keynote software. Please note - this product has only been tested with PowerPoint & Slides. In the download, you will get the Microsoft PowerPoint files and a PDF with instructions and clickable links to access the files in Google Drive. If using Google Slides you will be asked to make a copy on your own Google Drive. Children will need to draw their own text boxes to enter their text. Image files are also included for use in SeeSaw/PicCollage If, after downloading and reading the instructions, you are still having problems don't hesitate to email me at monsterteachingideas@yahoo.com