Mr A, Mr C & Mr D Present - Shop
Maths, literacy and science resources for KS2.
72Uploads
79k+Views
23k+Downloads
Maths, literacy and science resources for KS2.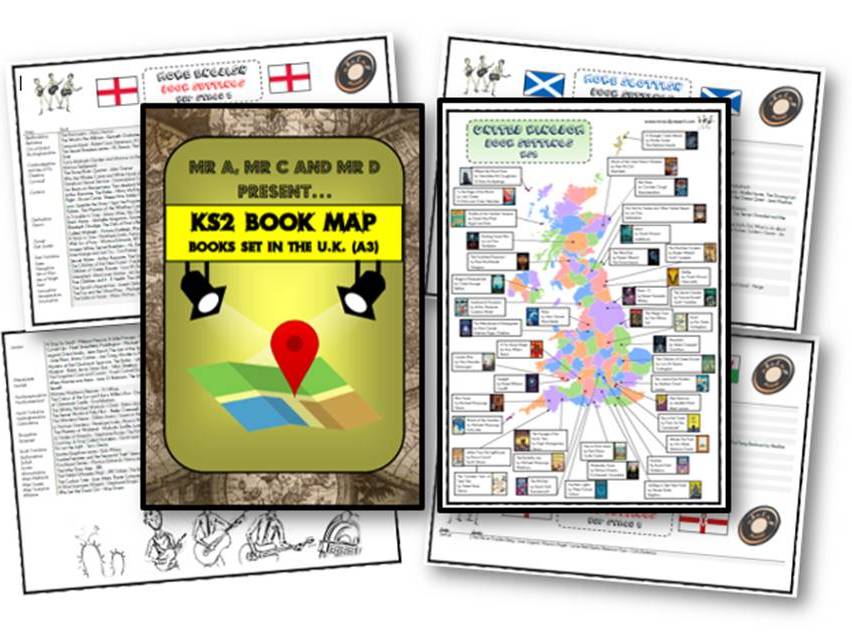 UPDATED - 01/08/18 This is a FREE A3 display poster for classrooms or staffrooms which shows the locations of children's books across the United Kingdom. Also included is an extensive list of other books based in England, Scotland, Wales and Northern Island which are all suitable for the Key Stage 2 classroom. This is a great way to promote a geographical understanding of the U.K. as well as discover both historical and modern books told in a specific local area. With thanks to the following… • LH 'Daisy' Johnson who has created an extensive spreadsheet list of children and young adult books and where they are set within the UK. For our resource, we have used this information but removed books for 'Young Adults', books more suitable for Key Stage 1 or where suitable age ranges cannot be identified. I have also removed some books due to low online user ratings. The main blog can be found at www.didyoueverstoptothink.wordpress.com and there are links to the original book list on the website, • A great interactive map with specific locations for Scottish children's books which can be found at: www.discoverkelpies.co.uk/kelpies-near-you/ • Hundreds of authors and teaching members of the Twitter community NEW - 20/01/19 CHECK OUT OUR WEBSITE PRICING PLANS! Get a teacher or school licence to access all our resources here: https://www.mracdpresent.com/plans-pricing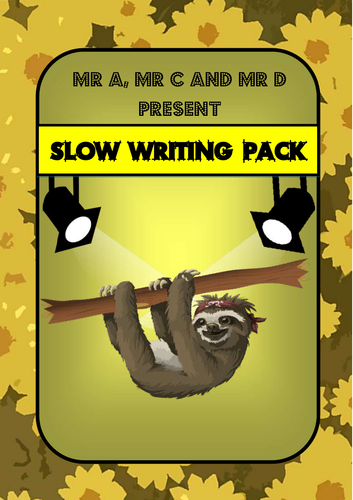 THIS IS A FREE SAMPLE COPY of the following product: This all-in-one Slow Writing Pack contains differentiated writing frames, a weekly lesson plan which can be used time and time again, as well as teacher/child criteria tick sheets. Using the 2014 National Curriculum and a range of alternative sentence ideas, the pack is suitable for Years 1, 2, 3, 4, 5 and 6. Also provided, are resource ideas and games to help you take Slow Writing further, This is a brilliant way for children to edit, re-draft and improve their work, as well as applying grammar and punctuation skills with strict guidelines.

FREE Punctuation Nation Song by Mr A, Mr C and Mr D Present taken from "The Literacy Jukebox" available on the App Store. From full-stops to semi-colons, listen to Mr C as he takes you on a punctuation journey like no other! 1 x Punctuation Nation Song 1 x Punctuation Nation Instrumental 1 x Punctuation Nation Lyrics Let's end this frustration and teach punctuation 'til it reaches the corners of our proud nation!

Join Mr A, Mr C and Mr D in this great funk song about prime numbers, suitable for children in KS2. With memorable lyrics, alternative funk music and a catchy chorus, this song is a great way to help your class learn to improve their understanding of this tricky area of the curriculum. LISTEN TO SAMPLES BEFORE YOU BUY (Copy and paste the link into your browser) https://soundcloud.com/mracdpresent/sets/the-maths-album-by-mr-a-mr-c-and-mr-d-present This Prime Numbers Song Pack contains the following: 1 x Prime Numbers song (mp3) 1 x Prime Numbers instrumental (mp3) 1 x Lyrics (pdf) www.mracdpresent.com

Join Mr A, Mr C and Mr D in this great rap song about coordinates, suitable for children in KS2. With memorable lyrics, hip-hop music and a catchy chorus, this song is a great way to help your class learn about position and direction! LISTEN TO SAMPLES BEFORE YOU BUY (Copy and paste the link into your browser) https://soundcloud.com/mracdpresent/sets/the-maths-album-by-mr-a-mr-c-and-mr-d-present This Coordinates Song Pack contains the following: 1 x Coordinates song (mp3) 1 x Coordinates instrumental (mp3) 1 x Lyrics (pdf) www.mracdpresent.com

Join Mr A, Mr C and Mr D in this great alternative rock song about negative numbers, suitable for children in KS2. With memorable lyrics and a catchy chorus, this song is a great way to help your class learn to improve their understanding of this tricky area of the curriculum. LISTEN TO SAMPLES BEFORE YOU BUY (Copy and paste the link into your browser) https://soundcloud.com/mracdpresent/sets/the-maths-album-by-mr-a-mr-c-and-mr-d-present This Negative Numbers Song Pack contains the following: 1 x Negative Numbers song (mp3) 1 x Negative Numbers instrumental (mp3) 1 x Lyrics (pdf) www.mracdpresent.com

Join Mr A, Mr C and Mr D (and their calamitous alien friend Bertrum), in this inventive futuristic song about adaptation, suitable for children in KS2. With hilarious characters and informative lyrics, this song is a great way to help your class learn to improve their understanding of this tricky area of the curriculum. LISTEN TO SAMPLES OF ALL OUR SCIENCE SONGS HERE: (Copy and paste the link below into your browser) https://soundcloud.com/mracdpresent/sets/the-science-album-by-mr-a-mr-c-and-mr-d-present This Adaptation Song Pack contains the following: 1 x Adaptation song (mp3) 1 x Adaptation instrumental (mp3) 1 x Lyrics (pdf) www.mracdpresent.com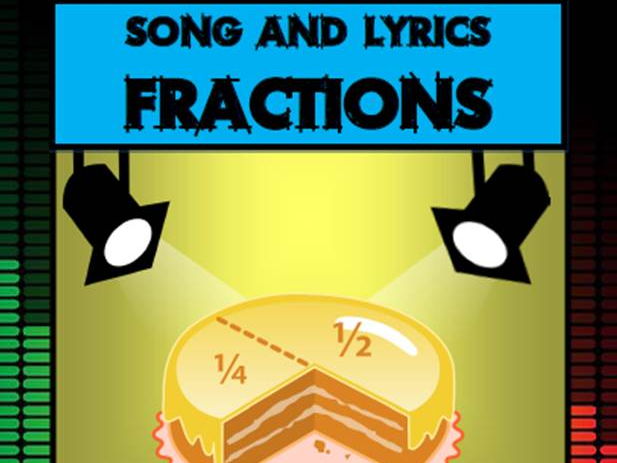 Join Mr A, Mr C and Mr D in this great funk song about how to double and half numbers, suitable for children in KS2. With memorable lyrics, alternative funk music and a catchy chorus, this song is a great way to help your class learn to improve their understanding of this tricky area in the curriculum. LISTEN TO SAMPLES BEFORE YOU BUY (Copy and paste the link into your browser) https://soundcloud.com/mracdpresent/sets/the-maths-album-by-mr-a-mr-c-and-mr-d-present This Fractions Song Pack contains the following: 1 x Fractions song (mp3) 1 x Fractions instrumental (mp3) 1 x Lyrics (pdf) www.mracdpresent.com

Join Mr A, Mr C and Mr D in this great sing-a-long song about quadrilateral shapes, suitable for children in KS2. With memorable lyrics and a catchy chorus, this song is a great way to help your class learn to improve their knowledge of 2D shape properties. LISTEN TO SAMPLES BEFORE YOU BUY (Copy and paste the link into your browser) https://soundcloud.com/mracdpresent/sets/the-maths-album-by-mr-a-mr-c-and-mr-d-present This Quadrilaterals Song Pack contains the following: 1 x Quadrilaterals song (mp3) 1 x Quadrilaterals instrumental (mp3) 1 x Lyrics (pdf) www.mracdpresent.com

Join Mr A, Mr C and Mr D (and their alien friend Bertrum) in this hip-hop song about planets, suitable for children in KS2. With a catchy chorus and memorable lyrics, this song is a great way to help your class learn to improve their understanding of this tricky area of the curriculum. LISTEN TO SAMPLES OF ALL OUR SCIENCE SONGS HERE: (Copy and paste the link below into your browser) https://soundcloud.com/mracdpresent/sets/the-science-album-by-mr-a-mr-c-and-mr-d-present This Earth, Sun and Moon Song Pack contains the following: 1 x Earth, Sun and Moon song (mp3) 1 x Earth, Sun and Moon instrumental (mp3) 1 x Lyrics (pdf) www.mracdpresent.com

Join Mr A, Mr C and Mr D in this hip-hop song / club anthem about teeth, suitable for children in KS2. With a catchy chorus and memorable lyrics, this song is a great way to help your class learn to improve their understanding of this area of the curriculum. LISTEN TO SAMPLES OF ALL OUR SCIENCE SONGS HERE: (Copy and paste the link below into your browser) https://soundcloud.com/mracdpresent/sets/the-science-album-by-mr-a-mr-c-and-mr-d-present This Teeth Song Pack contains the following: 1 x Teeth song (mp3) 1 x Teeth instrumental (mp3) 1 x Lyrics (pdf) www.mracdpresent.com

Join Mr A, Mr C and Mr D (and their alien friend Bertrum) in this great funk song about how number bond facts, suitable for children in KS1 and KS2. With memorable lyrics, alternative funk music and a catchy chorus, this song is a great way to help your class learn to improve their understanding of this key maths skill. LISTEN TO SAMPLES BEFORE YOU BUY (Copy and paste the link into your browser) https://soundcloud.com/mracdpresent/sets/the-maths-album-by-mr-a-mr-c-and-mr-d-present This Number Bonds Song Pack contains the following: 1 x Number Bonds song (mp3) 1 x Number Bonds instrumental (mp3) 1 x Lyrics (pdf) www.mracdpresent.com

Join Mr A, Mr C and Mr D in this rock song about the three states of matter, suitable for children in KS2. With a catchy chorus and memorable lyrics, this song is a great way to help your class learn to improve their understanding of this tricky area of the curriculum. LISTEN TO SAMPLES OF ALL OUR SCIENCE SONGS HERE: (Copy and paste the link below into your browser) https://soundcloud.com/mracdpresent/sets/the-science-album-by-mr-a-mr-c-and-mr-d-present This Changing State Song Pack contains the following: 1 x Changing State song (mp3) 1 x Changing State instrumental (mp3) 1 x Lyrics (pdf) www.mracdpresent.com

Join Mr A, Mr C and Mr D in this song about heat, suitable for children in KS2. With a catchy chorus and memorable lyrics, this song is a great way to help your class learn to improve their understanding of this tricky area of the curriculum. LISTEN TO SAMPLES OF ALL OUR SCIENCE SONGS HERE: (Copy and paste the link below into your browser) https://soundcloud.com/mracdpresent/sets/the-science-album-by-mr-a-mr-c-and-mr-d-present This Heat Song Pack contains the following: 1 x Heat song (mp3) 1 x Heat instrumental (mp3) 1 x Lyrics (pdf) www.mracdpresent.com

Join Mr A, Mr C and Mr D in this rock song about the science of sound, suitable for children in KS2. With a catchy chorus and memorable lyrics, this song is a great way to help your class learn to improve their understanding of this tricky area of the curriculum. Rock on! LISTEN TO SAMPLES OF ALL OUR SCIENCE SONGS HERE: (Copy and paste the link below into your browser) https://soundcloud.com/mracdpresent/sets/the-science-album-by-mr-a-mr-c-and-mr-d-present This Sound Song Pack contains the following: 1 x Sound song (mp3) 1 x Sound instrumental (mp3) 1 x Lyrics (pdf) www.mracdpresent.com

Join Mr A, Mr C and Mr D (and their alien friend Bertrum) in this great rock song about equivalence, suitable for children in KS2. With memorable lyrics, alternative rock music and a catchy chorus, this song is a great way to help your class learn shortcuts to improve their skills. LISTEN TO SAMPLES BEFORE YOU BUY (Copy and paste the link into your browser) https://soundcloud.com/mracdpresent/sets/the-maths-album-by-mr-a-mr-c-and-mr-d-present This Fractions, Decimals and Percentages Song Pack contains the following: 1 x Fractions, Decimals and Percentages song (mp3) 1 x Fractions, Decimals and Percentages instrumental (mp3) 1 x Lyrics (pdf) www.mracdpresent.com

Join Mr A, Mr C and Mr D in this electro song about mixing and sorting different materials, suitable for children in KS2. This song is a great way to help your class learn to improve their understanding of this tricky area of the curriculum. LISTEN TO SAMPLES OF ALL OUR SCIENCE SONGS HERE: (Copy and paste the link below into your browser) https://soundcloud.com/mracdpresent/sets/the-science-album-by-mr-a-mr-c-and-mr-d-present This Mixing Materials Song Pack contains the following: 1 x Mixing Materials song (mp3) 1 x Mixing Materials instrumental (mp3) 1 x Lyrics (pdf) www.mracdpresent.com

Join Mr A, Mr C and Mr D in this great rock song about the vocabulary for all 4 operations, suitable for children in KS2. With memorable lyrics, alternative indie music and a catchy chorus, this song is a great way to help your class learn about maths vocab! LISTEN TO SAMPLES BEFORE YOU BUY (Copy and paste the link into your browser) https://soundcloud.com/mracdpresent/sets/the-maths-album-by-mr-a-mr-c-and-mr-d-present This Add, Subtract, Divide, Multiply Song Pack contains the following: 1 x Add, Subtract, Divide, Multiply song (mp3) 1 x Add, Subtract, Divide, Multiply instrumental (mp3) 1 x Lyrics (pdf) www.mracdpresent.com

Join Mr A, Mr C and Mr D in this song about the circulation and pulse rate, suitable for children in KS2. With a catchy chorus and memorable lyrics, this song is a great way to help your class learn to improve their understanding of this tricky area of the curriculum. LISTEN TO SAMPLES OF ALL OUR SCIENCE SONGS HERE: (Copy and paste the link below into your browser) https://soundcloud.com/mracdpresent/sets/the-science-album-by-mr-a-mr-c-and-mr-d-present This Circulation and Pulse Rate Song Pack contains the following: 1 x Circulation and Pulse Rate song (mp3) 1 x Circulation and Pulse Rate instrumental (mp3) 1 x Lyrics (pdf) www.mracdpresent.com

Join Mr A, Mr C and Mr D in this great rock song about area and perimeter, suitable for children in KS2. With memorable lyrics, alternative rock music and a catchy chorus, this song is a great way to help your class learn about this 'area' of the curriculum! LISTEN TO SAMPLES BEFORE YOU BUY (Copy and paste the link into your browser) https://soundcloud.com/mracdpresent/sets/the-maths-album-by-mr-a-mr-c-and-mr-d-present This Area and Perimeter Song Pack contains the following: 1 x Area and Perimeter song (mp3) 1 x Area and Perimeter instrumental (mp3) 1 x Lyrics (pdf) www.mracdpresent.com