Parents and guardians
Interacting with parents presents an important opportunity for teachers to make sure that pupils' positive behaviour is praised, academic achievements are celebrated and disruptive behaviour is addressed quickly and efficiently. After all, parents and teachers are working towards the same goal: what's best for the student. To support effective parent-teacher communication, we've gathered a selection of practical tools, which will help you to deal with a range of situations.

Parent-teacher meetings
Be punctual and prepared with this collection of resources to ready yourself for parent-teacher conferences including appointment sheets, school trip presentations, welcome meetings and exam information.
Contacting parents
Update parents and guardians on their childs academic and behavioural progress and achievements both in and out the classrooms with these praise postcards and notes, behaviour and reading logs and certificates of achievement.
Supporting parents
Keep parents informed with what is happening in schools and help them support their children with their learning at home with newsletters, information and advice leaflets.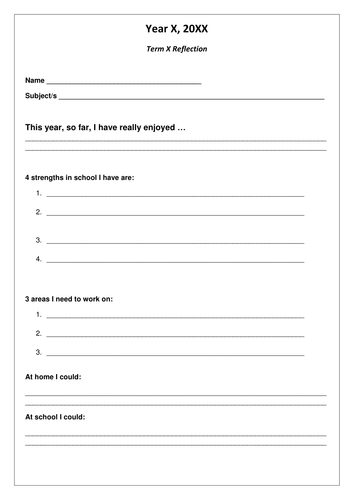 A super tool to encourage students to reflect on learning journey and to share with parents at parent teacher meeting. Suitable and adaptable for all students and levels. Encourages positive and proactive as well as guided conversation with students, parents and teachers.
A guide that is great to hand to parents on parents evening for students in Y10 and Y11. It gives advice on how students should prepare for exams (prior, on the day and in the exam) and how parents can assist with these preparations. Used with great success
These resources are ideal for school E-safety Officers, computer science co-ordinators or primary class teachers, as they help to establish some basic e-safety guidelines and to create communication between home and school. 1\. The newsletter is designed to be sent to parents of primary (KS1 &a...
Ways of working CPD
Whole school resources perfect for continuing professional development and sharing best practice for working with parents and guardians.