Behaviour for learning
Behaviour and classroom management is an essential part of every day teaching practice and the styles and techniques employed to manage classes are unique to the individual teacher, class and student taught. Therefore it is important to have a bag of tricks up your sleeve to help create and maintain a positive and calm learning environment. So, whether you're new to the profession and looking for support and inspiration or if you're a seasoned professional in search of fresh, innovative ideas, we have a wide variety of resources available to choose from. Praise cards and reward charts
Promote positivity and reward students' behaviour inside and out of the classroom using these printable rewards charts, sticker charts, merit templates and certificates.
Rules, timers and trackers
Support students and promote consistency in your classroom with these behaviour display posters, printable behaviour charts and trackers and utilise classroom noise monitors and timer resources to help keep the pace of lessons and students focused on their learning. 
Reports and reflections
Encourage students to reflect on their behaviour with this selection of report cards and evaluation templates.
Assemblies and CPD
Assembly resources to help you reaffirm behaviour expectations with your students in assembly and CPD resources on behaviour for learning to share with staff or for personal development. 
A 14 slide presentation on the pros and cons of different types of seating plans with a focus on behaviour management. Also includes a tried and tested method of seating classes with behaviour issues to improve the learning atmosphere. Many more inexpensive and free resources at my shop: EC_Resourc...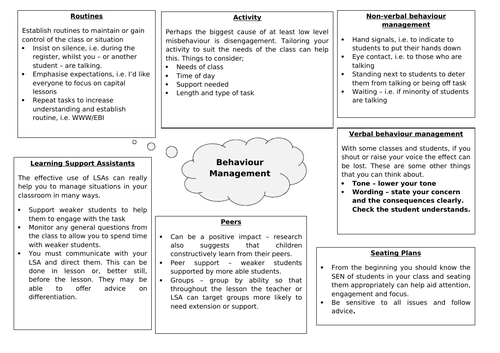 This resource is intended to be a brief overview for new or developing staff about some techniques or things to consider which will help them to implement positive behaviour management in their lessons.
A powerpoint focussing on classroom behaviours. This powerpoint can be used as an assembly or during a PSHCE lesson. The powerpoint encourages children to think about positive classroom behaviours and gives examples of what positive classroom behaviours look like. Aimed at Early Years and Key S...