Elsasupport's Shop
I have a passion for Emotional literacy and create resources to support teachers, teaching assistants, learning mentors and ELSAs
270Uploads
271k+Views
153k+Downloads
I have a passion for Emotional literacy and create resources to support teachers, teaching assistants, learning mentors and ELSAs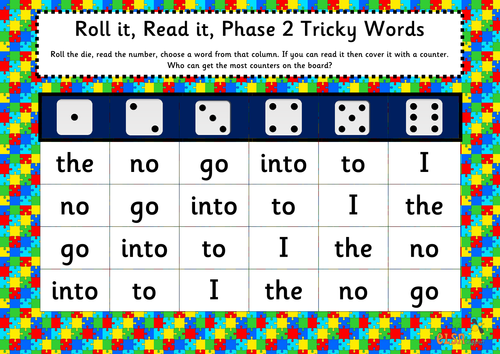 Each player has a different set of coloured counters. Each person throws the die and chooses a word from that column. They read the word and cover it with their counter. At the end of the game the person who has the most of their coloured counter on the board is the winner.

Resource from ELSA SUPPORT Print out the skin tone that you require. This resource has three different skin tones to suit all children. There are also 12 different sets of eyes and mouths and a set of emotions vocabulary flash cards. Laminate all the pieces and keep in a zipped bag for convenience. The aim of this resource is for children to begin to recognise facial expressions and talk about their feelings. It is excellent for children on the autistic spectrum. This resource is also very good for early years settings and can be put into an area of provision, allowing children to experiment and make different faces. Can they match the eyes to the mouth? Can they tell you what the expression is that they have made? Parents would also find this resource helpful for their preschool children. Questions you could ask – can you make me a 'angry face'? What would 'angry' eyes look like? What would 'sad' eyes look like? Can you make me a 'sad face'? Also use other vocabulary such as 'miserable, frustrated, terrified, proud'. There are so many possibilities for working with this resource. The cards could be used as a matching pairs game. Lay out all the cards and ask a child to choose a mouth and eyes that match – name the emotion. Use the face (laminated) for drawing emotion faces. Put it alongside a mirror so children can make faces themselves. Use the angry eyes and mouth to discuss anger and how to recognise when they are becoming angry. What makes them angry? What could they do when they are angry? Pick an emotions flashcard(included with the pack) and make the appropriate face.

This pack is suitable for WHOLE CLASS as well as group work. If there are teachers out there who have children who just don't get along then try running this as an intervention during PSHE time. Each lesson will take approximately 40 minutes to an hour. Each lesson is based on a letter from the word FRIENDS It is perfect for an ELSA or teaching assistant who has to work with a group of children with friendship issues. Included in this pack: FRIENDS certificates (children colour in a letter after each lesson and take them away at the end of the intervention). 7 planning sessions which could be done over several weeks. 40 positive friendship cards The Key to deserving good friends worksheet Five posters looking at skills for empathy. Skills for empathy bookmarks for the children to take away A 'Friend' venn worksheet. Heart friends template How to apologise bookmark for the children to take away after the lesson. Lesson objectives: I can find things I have in common with someone else Children will explore interests with a person in the group or class and find common interests. I understand that I must respect my friend. Children will explore respectful and disrespectful behaviour towards others focusing on the playground. They will design a poster showing a respectful playground. I understand the importance of including people in games, play, conversation and outings. Children will play games to illustrate what it feels like to be included or not included. I understand the importance of empathy for being a good friend and for having a good friend. Children will learn five skills to help them develop empathy for others. I understand why I need friends and why my friends need me. Children will explore why they need friends. Why friends are important. I can tell you some of my qualities for being a good friend. Children will explore their positive qualities essential for friendship. I can understand how important it is to say sorry if I am wrong. Children will look at how to apologise in this lesson.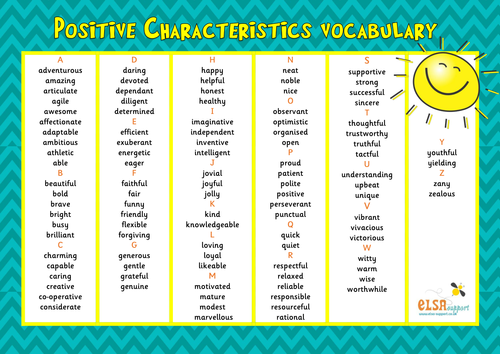 Two word mats - one aimed at positive characteristics (great for self esteem) and the other at emotions vocabulary.

This journal will address many areas of a pupils' well-being. It is suitable for KS2 upwards and even useful for adults! The journal is a way for pupils to find the positives in their life and to discover mindfulness and relaxation. Here are some of the areas addressed: Positivity Emotions Self-esteem Focus Target setting Mindfulness Relaxation Thinking skills Affirmations Scaling emotions Worries Thoughts and feelings Emotion tracking Gratitude/thankfulness Kindness Creativity Reflecting Planning Included in the pack: One weeks worth of journal – each day has 2 pages of things to fill in Independent journal sheet should pupils want to continue Worry garage Positives Jar 2 emotion trackers – dream catcher and mosaic End of week assessment Bullet journal sheet for creating Weekly review 8 front covers to choose from Doodles, drawings and scribbles sheet How to use the journal with lots of ideas for using in ELSA Sessions with a pupil – would also be useful to teachers, teaching assistants, learning mentors and counsellors.

This feel the feels worksheet set contains a worksheet for 20 different feelings/emotions. Suitable for Key stage 2, 3 and 4.

This resource would be very useful if you are setting up a building brick therapy group. To read more about running a therapy group then it is advisable to buy the book Lego® -based therapy. Children need to know their roles within the group, know the group rules and be rewarded for their participation and adhering to the rules. This download consists of: Certificates in A4 and A5 size Points chart for the whole group and for individual children Punch card behaviour/reward chart (could also be used to add stickers to) Rules poster and also individual rules to display Job badges Job description posters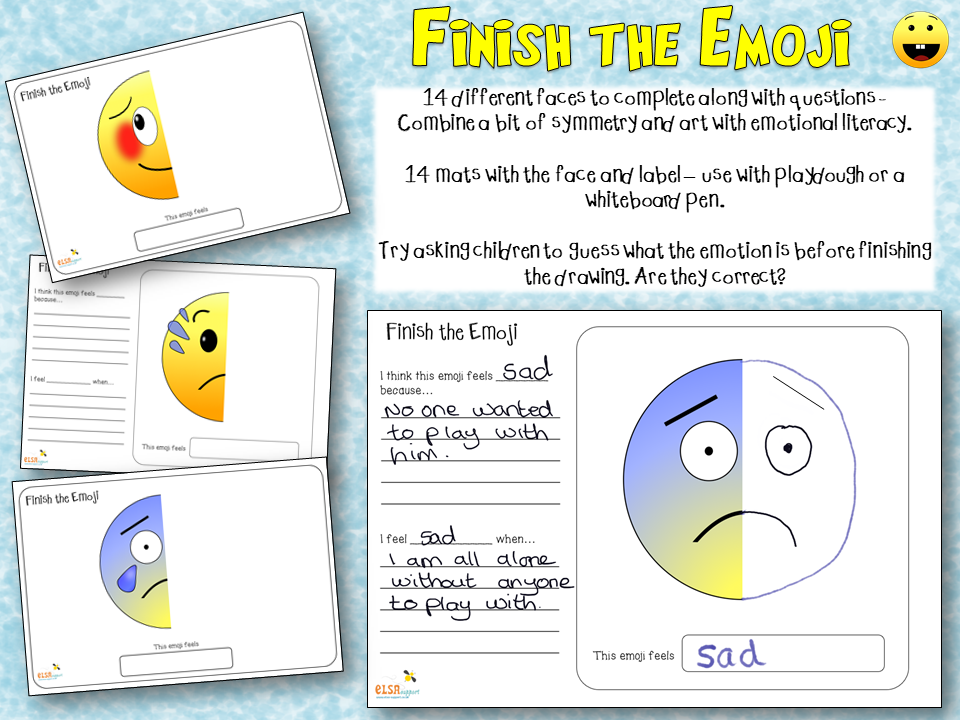 This 'Finish the Emoji' resource will combine emotional literacy with symmetry and art. There are full page mats where children need to finish the emoji face and then name the emotion or to take it a bit further there are worksheets with prompts. 14 emotions are covered with this resource.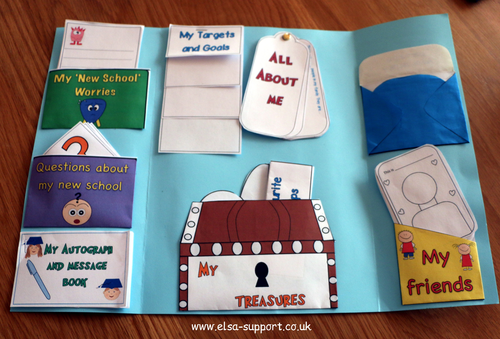 Transition to another school or class – My idea for this is that this can be built with a child, combining lessons and creativity and craft. Each component can be a lesson or part of a lesson. It is something for the child to take away at the end of your sessions. You could easily fill 4 to 6 lessons with what is in this lapbook. There are two versions, one in black and white so the child can colour the lettering etc and one in colour where they can just cut and stick. There are two alternative back covers which you can choose to add to the lapbook. One is a game about 'Changes' and the other is a weekly feelings diary. Of course you could add one of those to the back cover and just use the other separately. This resource could be a fantastic end of term project for a Year 6 teacher. The children will love all the little pockets and will be making something to be proud of. Included in the transition lapbook is: Name – child writes their name in a colourful way – they could write in bubble writing or decorate it anyway they wish. Picture– either take a photo of the child to stick here or ask them to draw themselves. Front cover title – Moving on My new school or new class worries – What sort of things are they worried about? Use the little monster writing sheets for children to write down their worries to put in the little pocket. Discuss these at each session and help to reassure the child about the changes that will happen when they move class or school. Questions about my new school or class – This is a perfect opportunity to answer all those questions about the new school or class. My autograph and message book – Let them collect autographs and messages from friends to take on with them to the next school or class. My goals and targets – This is a little layered book. The child has to come up with a target for the rest of the term, a target for the summer holidays and a target for the new school or class. All about me tag book – Lots of questions to answer in this little tag book. Treasure chest – Includes concertina books with some prompts but also includes a blank so you can ask different questions. The treasure box could contain anything that the child wants to keep safe. They could pop some little photos in there too. A letter to my future self – What do they hope for in the future? How can they see themselves when they are in the next class or in their new school. What will they be doing? What will they have achieved? Will they have new friends? A letter could also be written telling their future self of what they are doing now, any of their concerns or worries etc. Friends – The child can write their friend's name and finish the image to look like their friend. All their friends can fit into the little pocket. Changes game (back cover) Feelings diary (alternative back cover)

This Healing Steps Grief intervention covers six sessions and is written for a 'Grief Group' but also including planning for delivering to one child. This intervention is written for a group of four pupils (but there is planning for one to one working) and is led by an ELSA or teaching assistant. It covers emotions, relaxation and support around grief. This is an 'activity' based intervention and the stages of grief are not covered. It is meant for pupils to support each other and take part in activities to allow them to share their feelings and make themselves feel more able to cope. The pupils will take one step at a time and heal a little bit along the way. Animals will also be covered in this intervention because quite often the first loss a pupil experiences is a pet. Pupils will work together in a group which will give them a sense of belonging. It will also help them support each other. Sometimes it is easier to deal with your grief if you know that others are also experiencing similar feelings to you. The sessions will last for approximately one hour. All my interventions follow a similar structure: Welcome and emotional register– welcome the pupils to the group, go over the circle time rules and talk about how they feel today. Warm up – pupils really respond better if they have had chance to warm up and feel at ease by playing a game or activity. Activity – this is where the pupils work on the learning objective. Relaxation/Mindfulness – pupils are more ready to go back to class if they are relaxed and calm. Review of the session – pupils talk about their learning experience and colour in the appropriate 'step' at the back of their booklets. There might also be something to find out for next time or something to think about or do. The paper resources come in booklet form. There are also some additional templates and you will need some bubbles for each child, drinking straws and water or juice, whiteboard, colouring pencils, scissors and glue. Included in the pack: Group planning for six sessions Individual planning for six sessions Pupil Memory Booklet Pocket template Flower template Memory cube and accompanying sheet Relaxation cube and accompanying script Circle time rules Memory Questions Self care prompts Emotion fans Feelings of Loss poster

Pupils will learn about what is a kind thing to do and what is an unkind thing to do. Ideas Sort a selection of cards between 'kind' or 'unkind' (Template 1) 'The kindest thing I ever did' – comic strip. Ask the pupils to think about a time when they did something very kind. They can draw a comic strip of what happened. (Template 2) Use the cards as a prompt for circle time. Each child to decide whether they think the statement is kind or unkind. Prompt them to give a reason why. '10 kind things I can do' –Pupils can create a list of 10 things they could do to be kind. (Template 3) 'Kindness Challenge' – a simple diary entry each day, listing acts of kindness. (Template 4) Play a simple board game. Stack the cards where indicated. Use a counter to move around the board. Use a die to roll a number. Move that number of places. If they land on a thumbs up (Smiley face) or thumbs down (Sad face) they pick a card. If they land on a thumbs up and pick a card that is kind then they keep the card. If they land on a thumbs down and the card is unkind then they keep the card. If they land on a thumbs up and the card is unkind then it has to go back onto the pile of cards. The person who collects the most cards is the winner. Two boards are included for the game to suit younger and older children.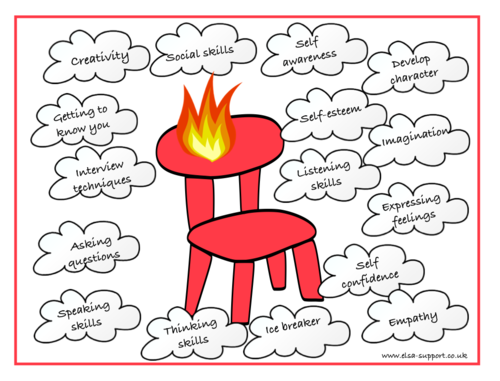 Hot seating has been used for many years in primary schools. One child or adult goes onto the hot seat (a chair which you could decorate to make it look important) and sits in front of the class or group. Other children ask questions to find out more about the character. It is usually used to develop the character for example in a book. The person on the hot seat must think and act like the character. It could also be used to find out more about a person. This resource contains the following: 112 question cards Worksheet for making your own character Worksheet for thinking of your own questions Character study worksheet Worksheet for making notes on the person who is being hot seated Instructions for use Editable question cards so you can make up your own questions

Express yourself Art Doodling is a series of prompts for drawing. Children get so much from drawing. It is a way of self expression and self exploration. Children relax when drawing and are much more open to talking about their feelings. This booklet can be printed as A4 and stapled together or as A3 to give children more room for drawing. You could also just dip into the sheets and print the one you want to use. You could use the same sheet for the whole group or whole class of children. The booklet has purposely been created in black and white so as not to distract from the child's drawings and of course to save printing costs. There are 40 activities in the booklet covering so many aspects of emotional literacy. I am sure children will get a lot out of the booklet and it will give you valuable information about their thoughts and feelings. It can also be used as a ready made lesson plan for one to one work or group work. Please ensure you use ADOBE to open PDFs because this will give you great options for printing.

This Good Mental Health workbook pack will help to promote good mental health Included in the pack: 24 page workbooklet 1 certificate in 15 cards in All in PDF format

These are just image files with a transparent background so you can basically use just like you would an image. The beauty of these is the transparent background so you can overlay them over basically anything. There are 11 image files in the pack. You can insert them into anything where you can insert a photo or graphic. You could add to some work you are marking for a child You could add as an attachment to a child you are emailing You could add to a photograph, there are lots of apps out there that you can do this with but will show you a simple way with PowerPoint. I think most people have that! You could add it to a little note you are sending to a child in word You could even make a sheet of real stickers if you want to by pasting into a word document and then printing on 'sticker paper'. You can resize them from small to HUGE. The image quality is 300dpi so perfect for enlarging too.

This is a resource for Good Mental Health week which starts on the May 18 through to 24th May This is a 5 day challenge on being kind to yourself. This is suitable for anyone to do whether you are 5 years old or 15 years old.

This diary is aimed at young children but as we all know emotional literacy can be poor with older students and this simple design might just suit them. This diary contains several different sheets which can be chosen depending on the child. For example some children would prefer to draw rather than write. Some children may need to practise drawing emotion faces or others might need to just tick the correct emotion.

Emotions early years – Teaching children about emotions is the most fundamental thing you can do to ensure children become emotionally literate and will help them with that all important emotional regulation. This 'EMOTIONS' resource will help to do just that. The main part of the resource is a powerpoint show where you can introduce each emotion. This gives lots of opportunity to work on one emotion at a time and promotes lots of discussion. This resource is aimed at early years but there are children that you may feel would benefit from this in KS1. Children are learning to: Recognise the emotion Understand what it means Label the emotion Express the emotion This resource consists of: A powerpoint show with 20 emotions and an emotional register A PDF of the show 20 'girl' emotion sheets in black and white for colouring 20 'boy' emotion sheets in black and white for colouring 20 'girl' emotion fans 20 'boy' emotion fans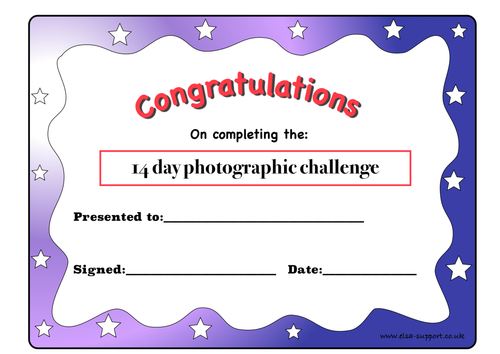 Gratitude is a social emotion and is a way of showing appreciation or thanks for something. People who practise gratitude on a regular basis are looking constantly for the positive things in their life. Gratitude has gained a lot of attention from the field of positive psychology. There has been research to show that it benefits us in many ways from physical well-being to boosting happiness. This resource can be used in several ways and consists of the following: A booklet with prompts including 14 quotes geared towards gratitude. Blank drawing sheets so you can put the day number and they can draw anything they like that makes them feel grateful. Blank writing sheets so you can put the day number and the child can write about anything that makes them feel grateful. 14 day photographic challenge booklet Certificates Scaling/assessment sheets pre and post The 14 different quotes would make a great discussion each day. It is best if the days are consecutive so perhaps send the diary home at the weekend for homework. If that is not possible I am sure it would be fine to miss out the weekends.

This is a completely free resource that can be used to get to know children who will be starting school in September. Of course that all depends on the current situation. It is a booklet that was asked for from a Learning mentor who needed something to send home to parents to find out as much as possible about their child. With the current situation home visits won't be possible. That may change in the next few months but at least you have something you can use. Obviously the parent and child would do this together. There are simple assessments such as colouring in, drawing themselves, drawing an emotion face, writing letters and numbers. Use as many or as few of the sheets as you want to. Parents if you are reading this then make sure there is no pressure on your child to write, draw etc but let them have a go or scribe what they say.