Hoppy Times
Recommended author of fun colourful resources to support different areas of KS2 curriculum.
221Uploads
586k+Views
169k+Downloads
Recommended author of fun colourful resources to support different areas of KS2 curriculum.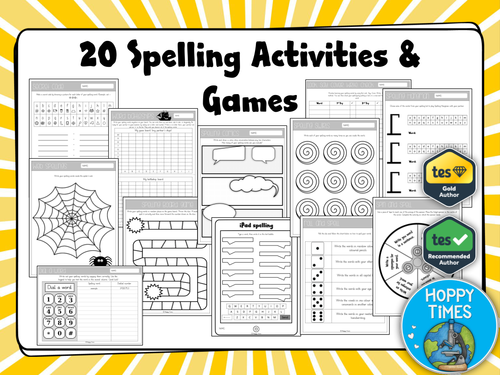 This resource contains 20 + spelling activities and games. Suitable for any word list (KS1, KS2) Almost no prep needed apart from printing (some games require a dice or a spinner). Can be used year after year making it a great investment! Activities include: secret code writing; spelling battleships; look/say/cover/write/check; iPad spellings; postcard writing; word search making; rainbow spelling; dictionary work; word webs; word swirls; spelling hangman; board game; word families; comic strips and more!

Create a powerful display to promote British Values in your school / classroom / nursery with these child friendly posters. Over 10 posters included (some with variations). The posters depict and explain democracy, the rule of law, mutual respect, individual liberty and tolerance to those of different faiths and beliefs. Every school in England must promote British values in their SMSC development, which is particularly important to Ofsted. This set is perfect for that! The document is in .pdf format (not editable) however if you have any suggestions, my email address can be found on the last page of the resource. Update: A version with a different font has been now added.

Chinese New Year lesson/ assembly. A fun and interactive PowerPoint presentation about Chinese New Year, its origins and traditions. 26 slides with basic information about the holiday. Suitable for stand alone lessons and assemblies in KS1/KS2. Included: history of the holiday; story of Nian monster; information about reunion dinner; Chinese Zodiac; fun facts quiz; video link; colourful illustrations. The presentation can be used on its own or followed by a number of engaging activities that are also in our shop. Thank you for your interest. HoppyTimes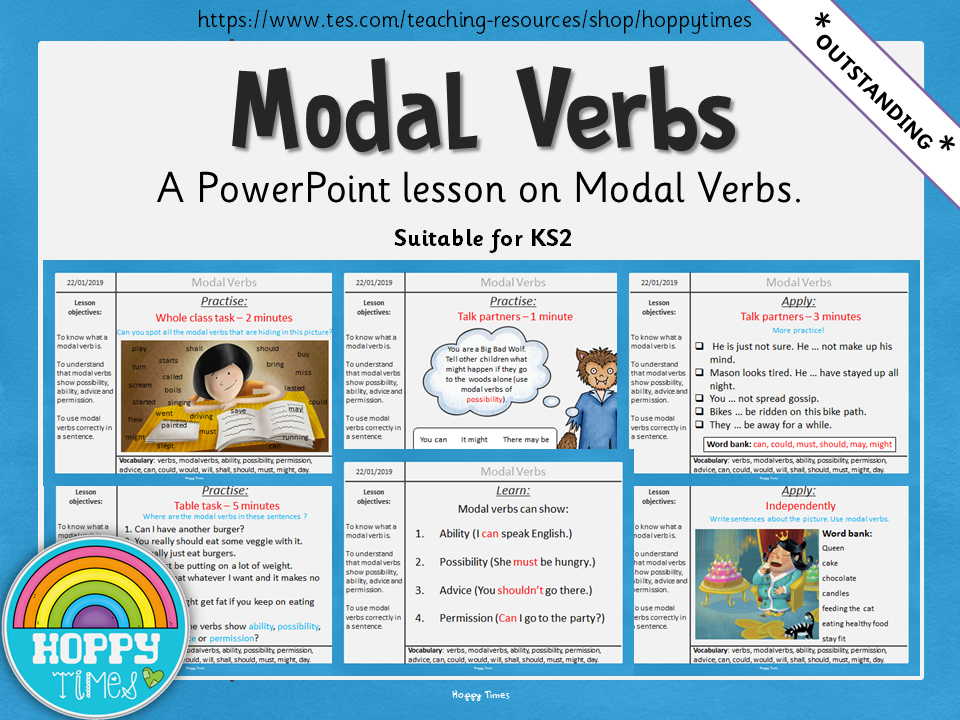 Outstanding MODAL VERBS Lesson KS2 This is the PowerPoint of a lesson that got an outstanding during the last Ofsted inspection. Great for your English/ Grammar or SPaG sessions. The lesson is an introduction to modal verbs and can be used across KS2. It includes editable slides for group work, pair work, whole class discussion, independent task and a plenary assessment. The modal verbs introduced are - can, could, would, will, shall, should, must, might, may. Colourful graphics, easy to follow , engaging lesson. Thank you for your interest! Hoppy Times

Transition Booklet for KS1/ KS2 - end of year, new class, social story. Pages 1 - 6 Booklet Cover page (Year 1 - 6) Page 7 About Me page (name, age, space for a photo, likes/dislikes) Page 8 Introduction to transition Page 9 New teacher's name and space for a photo/ drawing Page 10 A note from new teacher (to be completed by the teacher) Pages 11 - 13 Introducing the staff (space for photos and notes to be completed by the Year Group staff) Page 14 For photos/ drawings of a new classroom Page 15 New Classroom scavenger hunt activity Pages 16 - 18 For photos/ drawings of the areas in the new year group (playground, toilets, lunch trolley, etc.) Page 19 Things that will stay the same in the new year group (to be completed with the pupil) Page 20 Things that will be different in the new year group (to be completed with the pupil) Page 21 Blank page Page 22 Closing page Page 23 Credits page For most pupils, transition to a new Year group is an exciting time. For some, however, it can be worrying and unsettling. This booklet is created to be used in KS1 and KS2. Teachers and teaching assistants work on completing the booklet together with their pupils, once completed - the book can be used as a Transition Social Story. The document is in .pdf format and not editable. 23 pages included.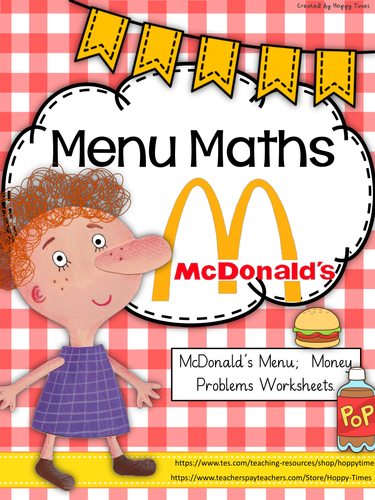 A great set to enhance your Maths lessons on addition, decimals, money and worded problems. Activities suitable for KS2 Years 4 - 6. All prices are shown in £ (e.g. £1.35) Page 1 - Cover Page Page 2 - McDonald's Menu Page 3 - 5 Activities (find the price from the menu; compare the prices using < = >; add up the totals for the order; worded problems, e.g. Choose a drink and a side dish, how much would you pay altogether?) Page 6 - Credits Page *Please note, all images were found on websites that allow free commercial usage and sharing.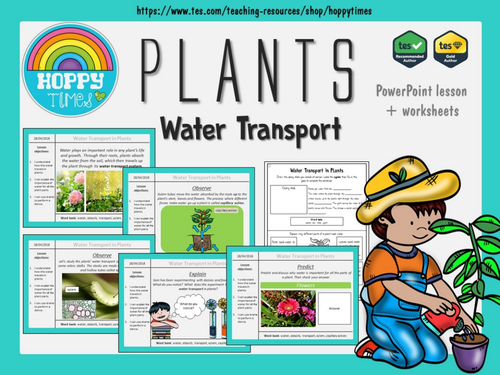 KS2 Science PowerPoint Lesson and worksheets on water transport in plants. This is the third lesson in a series of Year 3 Science lessons on Plants. Corresponds to the Year 3 Science statutory requirements: investigate the way in which water is transported within plants. 18 pages including the front cover and Hoppy Times terms and conditions. In this lesson, students learn the meaning of the plant water transport system; learn to explain how water travels through the xylem tubes of a plant in the process called capillary action; predict and discuss why water is important to each part of a plant; they are also encouraged to make up a dance to explain how the water transport in plants works. Resources needed for the lesson: PowerPoint (included); differentiated worksheets (1 per student); celery stalks cut into smaller pieces for observation of xylem. Independent worksheets included (differentiated 3 ways). The PowerPoint text is editable, making it easier to customise and tailor to the needs of your class. I will also be uploading a Capillary Action investigation to go as an extension to this lesson. Please check back soon. HoppyTimes

A PowerPoint Lesson introducing the Present Perfect Tense. Over 20 slides packed with explanations and practice materials -identifying verbs; looking for differences between Simple Past and Present Perfect; common uses; forming Present Perfect. Most text can be edited to suit the needs of your pupils. Blank slide included. pptx format Thank you for taking a look! Hoppy Times

Town Map Templates (directions, places, French) A set of 15 (a mixture of colour and black and white) town maps to be used for a variety of purposes: great for teaching prepositions, places in town, giving directions in English, French or any other language. The maps come with various icons for students to label themselves. I have also included a few blank black and white versions to create their own maps. Thank you for your interest. Please drop me an email if you need anything changing or adding, I always reply promptly. Hoppy Times

The resource follows the National Curriculum guidelines for Spelling, Punctuation and Grammar in Lower KS2 (Years 3 and 4) This HUGE set will give you everything you need for your SPaG wall. Included are 22 posters and 26 vocabulary cards on various SPaG topics. Posters: prepositions, root words, suffixes, prefixes, conjunctions, possessive nouns, possessive pronouns, plural nouns, word families, homophones, direct speech, articles, adverbs, fronted adverbials, pronouns, paragraphs, headings and subheadings, Present Perfect and Past Simple, main clause, subordinate clause, noun phrases, determiners. Can be printed as A4 or A3 (just change the settings on your Print page). The posters can also be scaled down (choose Multiple on the Print page) and used as reference cards - the choice is yours! Thank you for interest in my products! Hoppy Times

KS2 Science PowerPoint Lesson and worksheets on parts of a flower, pollination and fertilisation. This is the fourth lesson in a series of Year 3 Science lessons on Plants. Corresponds to the Year 3 Science statutory requirements: explore the part that flowers play in the life cycle of flowering plants, including pollination, seed formation and seed dispersal. Can also be used in Year 5 : describe the life process of reproduction in some plants and animals. 17 pages including the front cover and Hoppy Times terms and conditions. In this lesson, students learn about the main parts of a flower (petals, sepals, pistil, stigma with anthers, etc.) and their functions. This is an opportunity for the students to learn about the flower parts as they dissect them. I recommend using daffodils, lillies or tulips. A couple of paper flowers are also included for cutting out if live flowers are not available. Students also learn about the processes of pollination and fertilisation. The PowerPoint is provided with explanations, video links, interactive activities and a plenary. Also included are differentiated dissection mats - the idea is for the student to remove the flower parts and put them in correct places on the mat. They can then be secured by sticky back plastic or tape. Bonus - Flower Parts Poster and 3 labelling worksheets (differentiated). The PowerPoint is editable, making it easier to customise and tailor to the needs of your class. HoppyTimes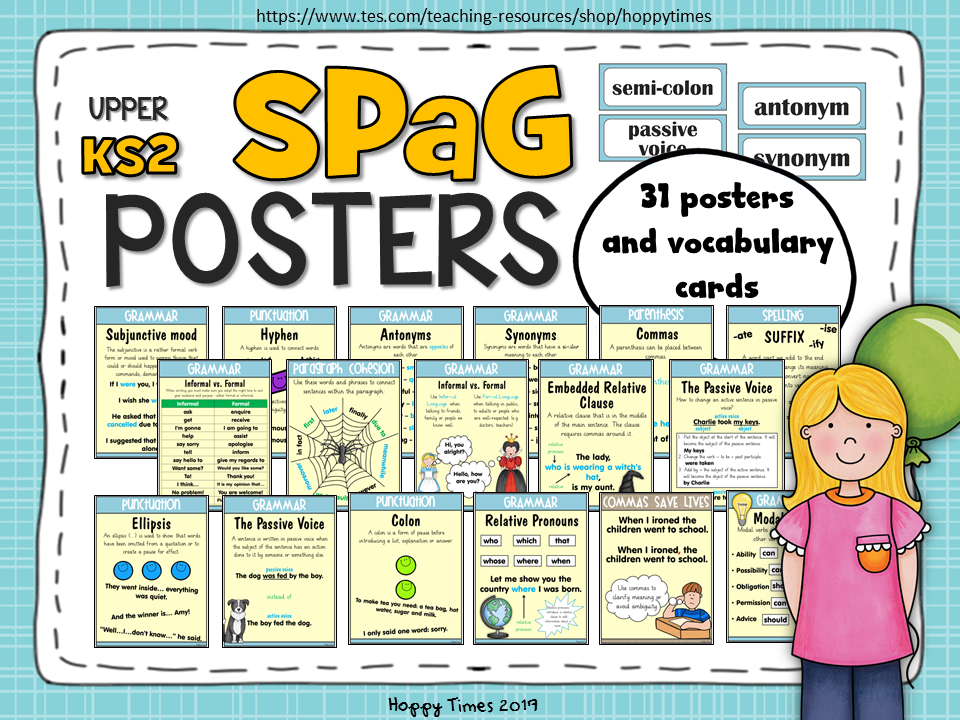 The resource follows the National Curriculum guidelines for Spelling, Punctuation and Grammar in Upper KS2 (Years 5 and 6) This HUGE set will give you everything you need for your SPaG wall. Included are 31 posters and 22 vocabulary cards on various SPaG topics. Posters: suffixes (converting nouns and adjectives into verbs); prefixes (changing meaning of verbs); relative clauses; embedded relative clauses; relative pronouns; modal verbs; types of modal verbs; parenthesis; brackets; dashes; commas; commas to avoid ambiguity; paragraph cohesion; formal and informal language; passive voice; layout devices; subjunctive mood; ellipsis; semi-colon; colon; hyphen; antonyms; synonyms. Can be printed as A4 or A3 (just change the settings on your Print page). The posters can also be scaled down (choose Multiple on the Print page) and used as reference cards - the choice is yours! Thank you for interest in my products! Hoppy Times

KS2 Science PowerPoint Lesson and worksheets This is the first lesson in a series of Year 3 Science lessons on Plants. Corresponds to the Year 3 Science statutory requirements: identify and describe the functions of different parts of flowering plants: roots, stem/trunk, leaves and flowers. Can also be used as an introduction to plants lesson in Year 2. 19 pages that will take your students on an exploratory journey to recap and discover different plant parts and their functions. The PowerPoint includes a starter, a number of engaging activities, an opportunity for independent work and assessment. The worksheets that go with the lesson are: Label Parts of a Plant (easier and harder), KWL chart and a template for creating their own plant. The PowePoint is fully editable, making it easier to customise and tailor to the needs of your class. HoppyTimes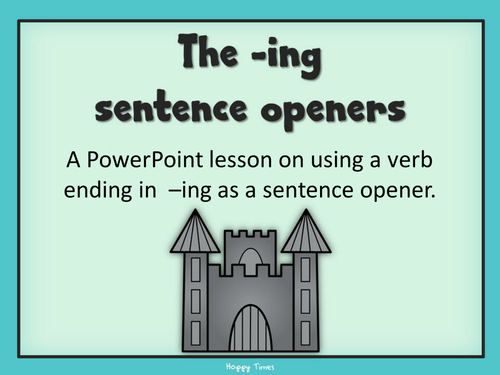 Up for your consideration is a PowerPoint lesson introducing ING SENTENCE OPENERS. Contains the warm up activity, rules for adding the ing openers, practice and independent work slides. .ppt format. Most text is editable. 16 slides including the credits slide. Thank you for having a look! Hoppy Times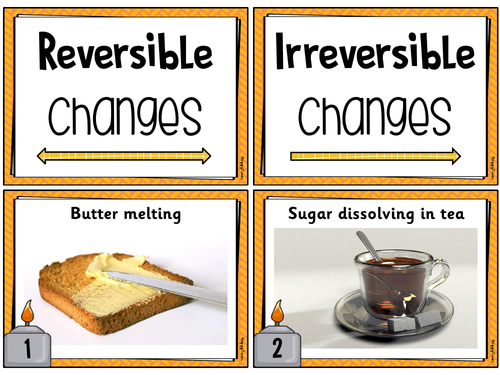 Reversible Irreversible Changes Card Sort Included 22 colourful images with descriptions of changes to materials. *demonstrate that dissolving, mixing and changes of state are reversible changes *explain that some changes result in the formation of new materials, and that this kind of change is not usually reversible, including changes associated with burning and the action of acid on bicarbonate of soda. Suitable for KS2 Recording sheet included Can be used as a walk the room activity, paired or individual work (4 cards per A4 sheet, can be reduced using your printing settings, cut out and stuck in books as pictures). The file is in .pdf format and not editable. Please do not hesitate to contact us with suggestions or queries. HoppyTimes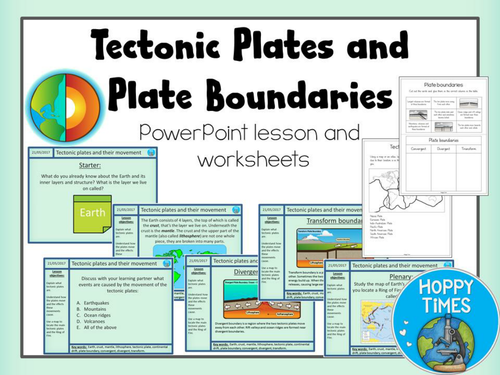 A Geography PowerPoint lesson and 2 worksheets on the topic of Plate Tectonics. The PowerPoint teaches pupils about tectonic plates and the three main types of boundaries - convergent, divergent, transform. Suitable for KS2/KS3. 16 slides in total - including the cover page and the credits page. 2 pages of worksheets. Please consider leaving a review if you enjoy the resource. Thank you for your interest, Hoppy Times :)

This is the second set in the series of activities to practise the spellings of Year 3 and 4 Common Exception Words. The activities in this set are based on the 10 words of the list - build, busy ( business), calendar, caught, centre, century, certain, circle, complete, consider. The activities include : page 1 - mini word lists page 2 - Look, Say, Cover, Write, Check activity pages 3 -8 - Word flash cards (2 per page of A4) pages 9 - 10 - Word search (with answers) page 11 - Make a sentence activity page 12 - Circle it! activity page 13 - Spelling Rainbow activity page 14 - credits This set is part of a Bundle If you like the quality of my work, please consider leaving a rating/ review. Thank you for your interest in my products. Hoppy Times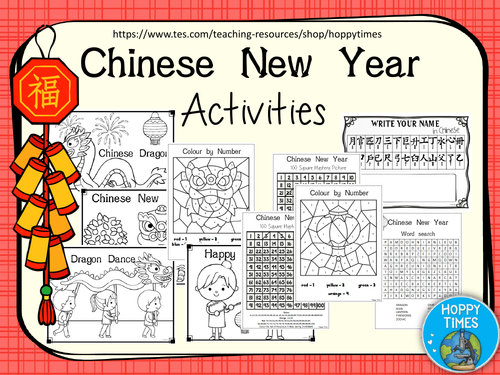 A fun set of activities to celebrate Chinese New Year with your KS1/ lower KS2 students. The resource includes: Colouring pages Write your name in Chinese activity Word search (with answers) 2 Colour by Number activities 2 Chinese New Year mystery pictures (with answers) It is a .pdf file and is not editable. Please contact me if you want anything changing or have any suggestions. Please see my other Chinese New Year resources: https://www.tes.com/teaching-resource/chinese-new-year-zodiac-craft-and-writing-activity-11800769 https://www.tes.com/teaching-resource/chinese-new-year-information-zodiac-nian-traditions-history-11800171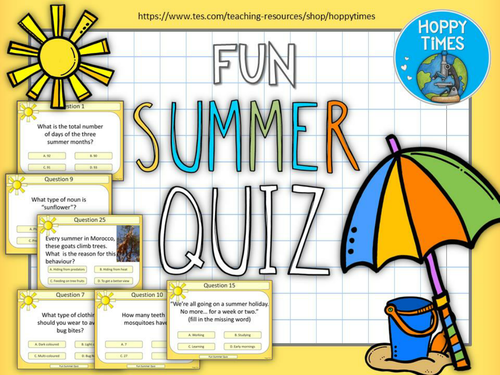 This fun quiz consists of 25 multiple choice questions about summer. Recording sheet included. Editable text. Great end of year activity. Suitable for KS2 - KS3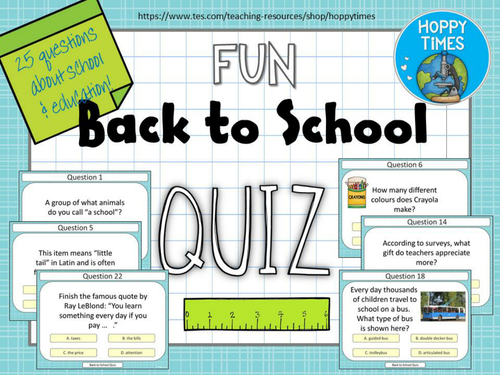 This fun quiz consists of 25 multiple choice questions about school and education, see examples in the preview. Recording sheet included. Editable text. Great beginning of the year / ice breaker activity for your new class. Suitable for KS2 - KS3