149Uploads
309k+Views
158k+Downloads

Updated (November 2018) Lesson exploring the character Mr. Fezziwig and how he acts as the catalyst of change for Scrooge. Lesson includes: -literacy starter (sentence forms) -Fezziwig and Scrooge comparison table -exam style question -student-friendly AQA mark scheme on how to get a Grade 9, 7 or 5 -AO focused worksheet to help students structure an analytical paragraph with sentence starters AQA paper 1, Q4 homework task

A detailed lesson looking at Marley's ghost in 'A Christmas Carol'. The lesson includes: -literacy starter (apostrophes) -exam style question with step by step on how to approach the question, annotate and analyse a quote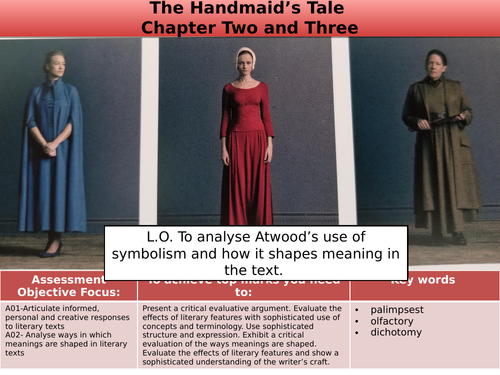 Lesson exploring Chapter 2 and 3 of The Handmaid's Tale. Students will analyse how symbolism is used by Atwood (clothing and flowers) to shape meaning. Questions are given for each chapter and task. Want to try before you buy? You can find a lesson for Chapter 1 of 'The Handmaid's Tale' for FREE on my TES shop.

Lesson exploring the theme of women and femininity in 'The Handmaid's Tale'. Students will concentrate on second wave feminism, making connections with the novel. Lesson includes: Range of statements for debate/Socratic seminar Chapter 7 key questions links to articles about second wave feminism and questions to aid analysis/discussion quote analysis task Essay question to test students' evaluation skills

Updated version: (November 2018) A detailed lesson looking at the contrast between the presentation of Scrooge and his nephew in A Christmas Carol. Lesson includes: a literacy task looking at apostrophes 'explode the quote' word level analysis activities AQA student friendly mark scheme AO focused worksheet to help students structure their analytical paragraphs -assessment question -letter writing task Can be used for KS3 and KS4.

Detailed lesson for Q3 (structure). The lesson: - looks at the differences between language and structural techniques -gives students opportunities to identify structural techniques within a text - includes a detailed flashcard with sentence stems and terminology for revision -includes mark scheme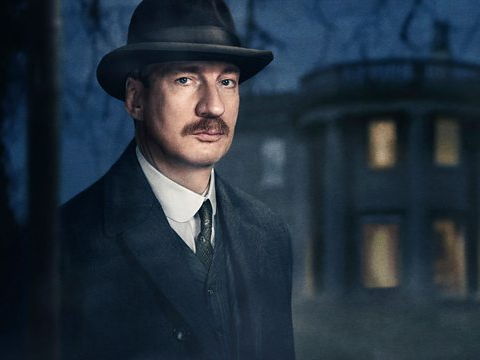 A detailed lesson on the significance of Inspector Goole to the play. Lesson includes an exam question and self assessment sheet using grades 1-9.

Detailed lesson focusing on The Ghost of Christmas Past. Lesson includes: -literacy starter (homophones) -comprehension questions for Stave 2 - guided question for analysis of an extract

FIVE writing activities for AQA English Language Paper 2 Question 5. I've used the thought provoking work of artist Al Margen to act as a visual aid and help students write more creatively. I have also included questions for classroom discussions.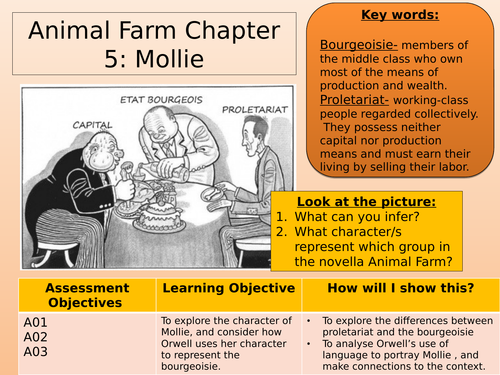 Detailed lesson exploring the character of Mollie, and how Orwell uses her character to represent the bourgeoisie.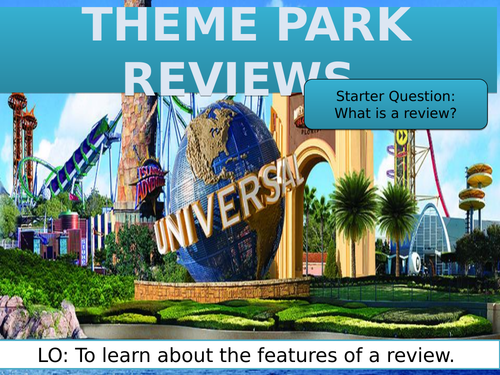 Lesson teaching students how to write a review. Students will look at features of a review and examples in order to help them write their own successfully.

Series of detailed lessons for Passage to Africa. Persuasive writing and context lessons: Students will act as 'Save the Children' and research into the issues affecting the lives of those in Somalia due to the war (research pack provided). They will then write a persuasive speech to the Prime Minister using the research that they have learnt. This can be taught over a series of lessons. Activities led to really interesting and insightful discussions, and students developed a more insightful understanding of the issues that affect their world :o) Nice idea to extend learning outside the classroom: - letters could be sent to the MP -speaking and listening activities -assembly presentations (A VARIATION OF THIS LESSON FOCUSING ON THE SYRIAN REFUGEE CRISIS CAN BE FOUND ON MY TES SHOP FOR FREE AND IS A TES RECOMMENDED LESSON) Descriptive Writing Lesson: - Quiz testing students understanding of language techniques - Stimulus (focusing on famine in Somalia) for creative writing with step-by-step success criteria - Example answer to help students write a successful response (THIS LESSON CAN BE FOUND FOR FREE ON MY TES SHOP FOR YOU TO SEE WHAT TYPE OF LESSONS YOU WILL RECEIVE) Analysis Lesson: -Lessons unpicking the language and structure of the text. Students will work together to identify key techniques and the effect of these. -Exam style question provided with step by step instructions on how to approach the question. Student example also given to help student write a more successful answer.

Students will look at the main features of a news report. They will then use what they have learnt to create and perform their own. The lesson includes: -literacy tasks: spelling test, sentence structures and discourse markers -5Ws questions -stimulus (article) for their news report -peer assessment worksheet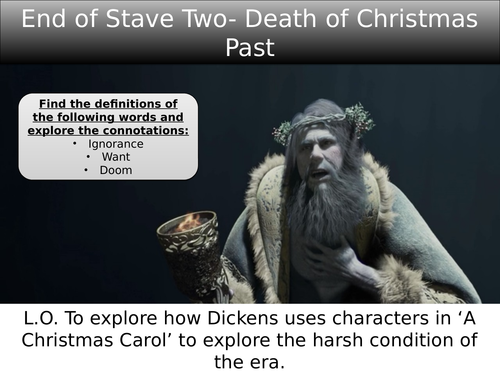 Detailed lesson looking at the ending of Stave 3. Students will focus on the social and historical context (child poverty and workhouses) and how this influences the themes/ideas explored in the novel. Lesson includes: - literacy starter (using dialogue correctly) -video and key questions -language analysis tasks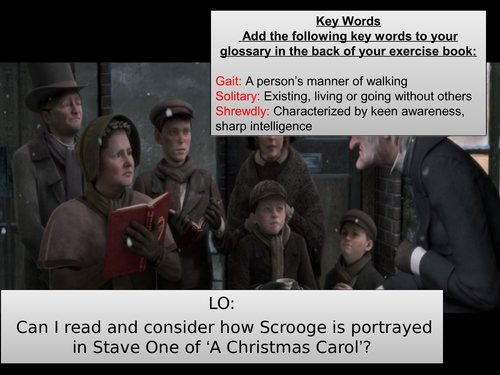 SOW for 'A Christmas Carol'. Scheme includes a series of 12 lessons that can be used with KS3 and KS4. It breaks down each chapter, key themes and ideas of the novel. Literacy activities and quotes analysis tasks have been included as class starters/settlers. An assessment lesson based on the AQA English Literature paper has also been provided. It allows the students to plan for the question effectively and learn how to structure their essay. Try before you buy! Visit my TES shop for a free lesson from the scheme.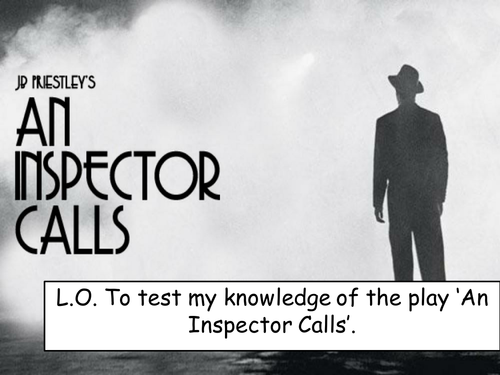 13 detailed lesson PowerPoints for revision of 'An Inspector Calls'. Each lesson focuses on a different character or theme. A variation of tasks are included: -visual and auditory task - independent written tasks - group tasks -speaking and listening task I have also tried using examples that are relatable to them, for example getting students to make comparisons between the relationship of Sheila and Gerald and Beyonce and Jay-Z. Scheme also includes: - focus on exam skills -break down on how to approach the question - lesson on assessment objectives - weekly homework timetable, which includes exam style questions for a seven week term - midweek homework tasks for revision of the 'Love and Relationships' poetry cluster.

A series of detailed lessons focused on students creating their own theme park. Each lesson requires students to write for a different purpose or form (writing a review, pitch, leaflet). SPaG tasks are also included.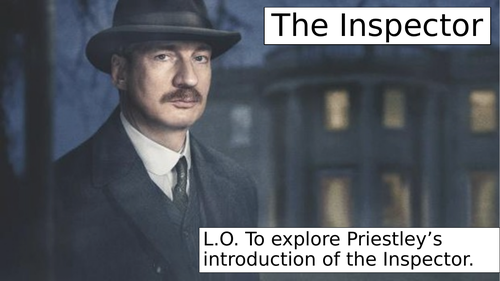 Lesson looking at how Priestley introduces the Inspector to the play. Students will unpick key quotations and analyse the methods Priestley uses to present Inspector Goole. Questions are given to help students 'Explode the Quote' and an exam style question is provided. An AQA Q5 writing task starter has also been included for revision.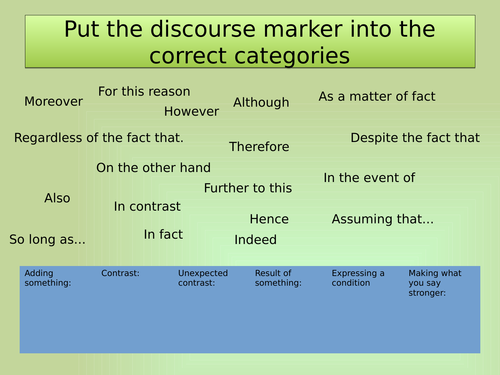 A debate lesson looking at whether Scrooge should be forgiven or not. Lesson includes: -starter (discourse markers) - reading of Stave 3 with guided questions - step by step on how to conduct a debate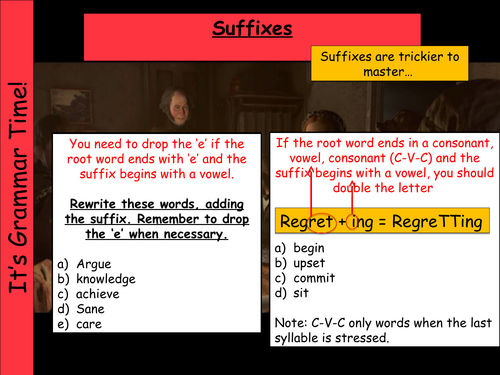 Detailed lesson focusing on the Cratchit family. Lesson includes: - literacy starter (suffixes) -AQA exam style writing question (Question 5, Paper 1) - differentiated quote analysis tasks