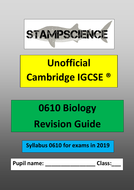 2019 0610 Cambridge IGCSE Biology Revision Guide
This revision guide is 92 pages long. It is composed of closed questions that cover every point of the 2019 0610 Biology syllabus. Pupils complete the revision guide by answering all the questions which gives them a summary of the whole course in one book. This is an essential revision tool and really helps pupils to structure their revision time and should improve their grades. It could even be used during the teaching of content instead of a notebook. This is the version for 2019 exams in June and November. 2020 version to follow.
The price of this resource is set high because you can make as many copies as you like for the pupils in your classes. This is considerably cheaper than buying the required number of copies of any revision guide book.
Please contact me if you notice any mistakes and I will edit the resource and upload a new version
PLEASE NOTE:
THIS REVISION GUIDE DOES NOT INCLUDE ANSWERS/SOLUTIONS
DOUBLE CHECK YOU ARE DOWNLOADING THE RIGHT YEAR (WHEN YOUR PUPILS WILL SIT THE IGCSEs)
Read more