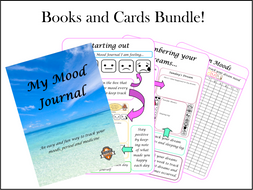 Books and Cards Bundle
Get our Dream Diary and Mood Journal ebooks together and recieve Emotions Colouring books for free. Also comes with Halloween and Mandala colouring worksheets, the emotions flashcards / game and Story Tiles . Great for all ages from young kids to nurture groups to adults!
All money from this bundle - and all our resources - goes into printing educational resources and books for our students in West London schools. Thank you for taking a look!