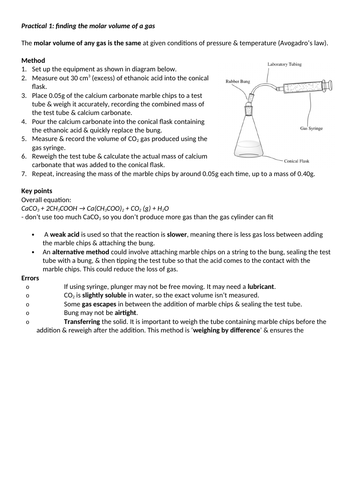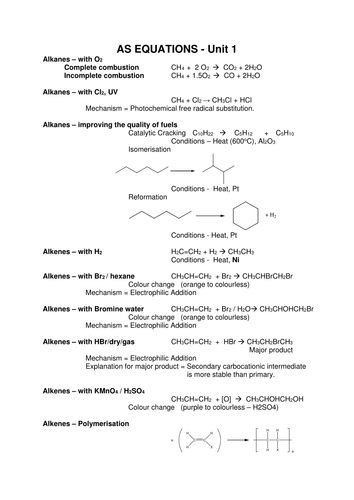 Chemistry - International Edexcel AS Level Revision Notes
for more information contact me: email - maryamj07@hotmail.com
Contains all 10 units for AS Chemistry for Edexcel.
Chapters included:
1A. ATOMS, ELEMENTS & MOLECULES
1B.1 WRITING CHEMICAL EQUATIONS
1B.2. TYPICAL REACTIONS OF ACID
1B.3. DISPLACEMENT REACTIONS
1B.4 PRECIPITATION REACTIONS
1C.1 COMPARING MASSES OF SUBSTANCES
1C.2 CALCULATIONS INVOLVING MOLES
1C.3 CALCULATIONS USING REACTING MASSES
1C.4 THE YIELD OF A REACTION
1.C.5 ATOM ECONOMY
1.D.1 EMPIRICAL FORMULA
1D.2 MOLECULAR FORMULAE
1E.1 MOLAR VOLUME CALCULATIONS
1E.2 CONCENTRATIONS OF SOLUTIONS
1E.3 CONCENTRATIONS IN PPM
2A.1 STRUCTURE OF THE ATOM & ISOTOPES
2A.2 MASS SPECTROMETRY & RELATIVE MASSES OF ATOMS, ISOTOPES & MOLECULES
2A.3 ATOMIC ORBITALS & ELECTRONIC CONFIGURATIONS
2A.4 IONISATION ENERGIES
2B.1 THE PERIODIC TABLE
2B.2 PERIODIC PROPERTIES
3A.1 THE NATURE OF IONIC BONDING
3A.2 IONIC RADII & POLARISATION OF IONS
3A.3 PHYSICAL PROPERTIES OF IONIC COMPOUNDS
3B.1 COVALENT BONDING
3B.2 ELECTRONEGATIVITY & BOND POLARITY
3B.3 BONDING IN DISCRETE (SIMPLE) MOLECULES
3B.4 DATIVE COVALENT BONDING
3C.1 SHAPES OF MOLECULES & IONS
3C.2 NON-POLAR & POLAR MOLECULES
3D METALLIC BONDING
3E.1 INTRO TO SOLID LATTICES
3E.2 STRUCTURE & PROPERTIES
4A.1 WHAT IS ORGANIC CHEM?
4A.3 FUNCTIONAL GROUPS & HOMOLOGOUS SERIES
4A.4 NOMENCULTURE
4A.5 STRUCTURAL ISOMERISM
4A.6 TYPES OF REACTIONS
4B.1 ALKANES FROM CRUDE OIL
4B.2 ALKANES AS FUELS
4B.3 ALTERNATIVE FUELS
4B.4 SUBSTITUTION REACTIONS IN ALKANES
5A.1 ALKENES & THEIR BONDING
5A.2 GEOMETRIC ISOMERISM
5A.3 ADDITION REACTIONS OF ALKENES
5A.4 THE MECHANISM OF ADDITION REACTIONS
5B.1 POLYMERISATION REACTIONS
5B.2 DEALING WITH POLYMER WASTE
6A. INTRODUCING ENTHALPY & ENTHALPY CHANGE
6B. ENTHALPY LEVEL DIAGRAMS
6C. STANDARD ENTHALPY CHANGE OF COMBUSTION
6D STANDARD ENTHALPY CHANGE OF NEUTRALISATION
6E STANDARD ENTHALPY CHANGE OF FORMATION & HESS'S LAW
6F BOND ENTHALPY & MEAN ENTHALPY CHANGE
6G USING MEAN BOND ENTHALPIES
7A INTERMOLECULER FORCES
7B INTERMOLECULAR INTERACTIONS & PHYSICAL PROPERTIES
8A.1 ELECTRON LOSS & GAIN
8A.2 ASSIGNING OXIDATION NUMBER
8A.3 RECOGNISING REACTIONS USING OXIDATION NUMBERS
8A.4 OXIDATION NUMBERS & NOMENCULTURE
8A.5 CONSTRUCTING FULL IONIC EQUATIONS
8B.1 TRENDS IN GROUP 1 & 2
8B.2 REACTIONS OF GROUP 1 ELEMENTS
8B.3 REACTIONS OF GROUP 2 ELEMENTS
8B.4 OXIDES & HYDROXIDES IN GROUP 1 & 2
8B.5 THERMAL STABILITY OF COMPOUNDS IN GROUP 1 & 2
8C.2 REDOX REACTIONS IN GROUP 7
8C.4 OTHER REACTIONS OF HALIDES
8D.1 MAKING STANDARD SOLUTIONS
8D.2 DOING TITRATIONS
8D.3 CALCULATIONS FROM TITRATIONS
8D.4 MISTAKES, ERROR, ACCURACY & PRECISION
8D.5 MEASUREMENT ERRORS & UNCERTAINTIES
8D.6 OVERALL MEASUREMENT UNCERTAINTY
9A.1 REACTION RATE, COLLISION THEORY & ACTIVATION ENERGY
9A.2 EFFECT OF CONCENTRATION, PRESSURE & S.A ON THE RATE OF REACTION
9A.3 EFFECT OF TEMP ON THE RATE OF REACTION
9A.4 EFFECTS OF CATALYSTS ON REACTIONS
**
all in 100 pages!!
Tes paid licenceHow can I reuse this?
Something went wrong, please try again later.
This resource hasn't been reviewed yet
To ensure quality for our reviews, only customers who have purchased this resource can review it
Report this resourceto let us know if it violates our terms and conditions.
Our customer service team will review your report and will be in touch.