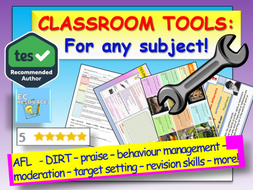 Classroom Tools Mega Bundle
All the classroom tools you need to manage your classes! From amendable AFL and Dirt Time materials to target setting, behaviour management and rewards, seating plans and laying down your classroom rules.
All these classroom tools can be used in any subject and many are particularly useful for Tutor Time too.
Loads more classroom tools and whole school materials at my shop: EC RESOURCES
Read more