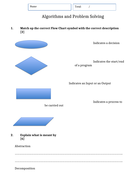 Computer Science Algorithms Test
This is the test my students complete after they have finished my Algorithms and Problem Solving unit.
Read more
Other resources by this author
This is possibly my most favourite piece of work to do with the students. I do it as an end of year activity when they are a bit more confident wit...
PaperAirplane
One of the areas of the national curriculum that we should be introducing students to is RECURSION. This is an excellent activity to introduce that...
PaperAirplane
A few of my revision activities bundled together which were previously listed separately which were highly downloaded. Fill in the blanks activity ...
PaperAirplane
Popular paid resources
When these booklets are printed you have 8 theory lessons primarily based on the BBC Bitesize website. Follow the bitesize online pages and activit...
anthellison
Full set of worksheets for iGCSE computer science units included programming concepts, pseudo code and flowcharts and algorithm design and problem ...
Stephens1412
Topics included: Computer Architecture Ethics Input Devices Memory Storage and media Programming concepts Pseudocode and Flowcharts Algorithm Design
Stephens1412
Updated resources
This resource was developed for Advanced Higher Computing Science (Scottish Curriculum). It describes a linked list and works through the implement...
alisoncowie6178
More than 600 computing terms explained in Plain English and designed to be used as exam answers - many of the definitions are based on the mark sc...
Maths4Everyone
A handout summarising what global and local variables are A worksheet for them to predict the output and then to try the code themselves (Python)
lynngilesdean