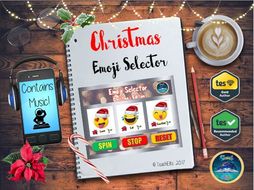 Emoji Selector Christmas Edition
Emoji Selector Christmas Edition

Add a festive touch to you lessons this Christmas season with this Christmas Edition of our Emoji Selector. If you like this activity, check out our interactive Emoji Selector

This is a really fun CHRISTMAS AFL Activity!

Teacher Instructions: You can copy and paste the Emoji selector slide into any presentation you wish or use the slide as a standalone resource. Click on the spin button to start the selector and the stop button to stop it. You can reset the selector at any time to restart the process.

Class Instructions: The Emoji Selector will generate three emotions. You must press 'spin' to start the selector and 'stop' to stop it spinning. The pupils will have to give reasons as to how each of the selected emotions relate to the lesson. I.e. if the selector lands on 'Happy, Frustrated & Shocked' the pupils have to give one thing that made them happy, one thing that frustrated them and one thing that shocked them during the lesson.

Merry Christmas!

If you like this resource, please give us a review and we will send you a free resource of your choice of the same value.

We hope that you enjoy this resource! We would love your feedback, if you like what you see, please follow us: on Tes TeachElite's Shop click the'Follow this Author button' . We will keep you updated on any sales we throw or FREEBIES we upload.

You can find us on Twitter: https://twitter.com/TeachEliteRE
and Facebook: https://www.facebook.com/TeachElite/
About this resource
Info
Created: Nov 14, 2017
Updated: Feb 22, 2018
Other resources by this author
Plenary Generator / Plenaries Great for AFL!! View our Starter Generator too. The perfect pair of resources to have in ANY Lesson! OR If you're fee...
TeachElite
Easter : The Death of Jesus CSI ( This is designed in the style of a Murder Mystery Investigation ) Could be used with KS3, 4 & 5 Our Death of ...
TeachElite
Easter : Easter Bundle Included in this pack is a selection of our Easter activities, timers and lessons. We hope that you enjoy this resource! If ...
TeachElite
Popular paid resources
Light hearted assembly script and accompanying powerpoint looking at the forthcoming World Cup suitable for KS2 or KS1.
sthomas78
A set of activities based around the theft of the Jules Rimet trophy which was stolen in 1966 and subsequently found by Pickles the dog. This resou...
ummishaq
This FIFA Football World Cup 2018 bunting includes the flags of all 32 countries in the competition.It is the perfect way to celebrate the Football...
Kiwilander
Updated resources
This resource is a bundle of activities perfect for using with your year 1 class during the 2018 football World Cup. The bundle contains: Phonics B...
blossomingminds
This resource is a highly visual, fully editable 65-slide PowerPoint lesson/assembly on World Environment Day which takes place on 5th June annuall...
Krazikas
A word search on the environment. An ideal resource for World Environment Week / Day. This is a sample worksheet from a set of 6 differentiated wor...
Krazikas