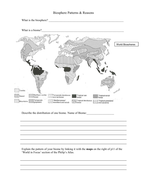 Factors controlling the location of biomes
A lesson defining biosphere and biomes then simple data response questions using biome maps and graphs (describe and explain) before developing aspects of complexity (outline one, command). Then looking at local factors such as aspect, prevailing winds, altitude, continentallity etc.

Includes worksheet for note taking.
Read more