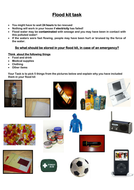 Flooding
Flood response task and flooding case study Cockermouth in the Lake District, also includes a lesson on how to prepare for a flood in a group style lesson delivery
About this resource
Info
Created: Feb 7, 2011
Updated: Jan 23, 2016
Other resources by this author
Roman villa lessons lesson one-Introduction to Roman Villa and key features Then a long term task pupils design a Roman estate agent booklet by bei...
leighbee23
A lesson to introduce the 6 wives of Henry VIII, it includes various activities for students to engage in to explore the personalty of Henry VIII a...
leighbee23
This lesson involves pupils working in groups to produce an election campaign for one of the claimants to the throne in 1066. (Before the Battle of...
leighbee23
Popular paid resources
Flood response task and flooding case study Cockermouth in the Lake District, also includes a lesson on how to prepare for a flood in a group style...
leighbee23
I have written this Scheme of Work for y7/8/9 EBSD boys. Can be easily adapted for KS2.
asadler79
Easy to follow PowerPoint Presentation (in a print friendly format), perfect for GCSE, A-Level and first year university students. Uses KEY GEOGRAP...
shoaib1999
Updated resources
Perfect as the first lesson to start students thinking about determinants of disease. Worksheet contains questions which students must research and...
naomimoore
Q. Assess the relative impact of communicable and non-communicable diseases. (9) Communicable diseases are those which are infectious, contagious a...
naomimoore
Here is a thinking quilt for the case study of the Big Dry taught as part of OCR A 9-1 GCSE Geography- focusing on causes, effects and responses to...
adamac1